Separate software layer for S&OP and IBP in ten days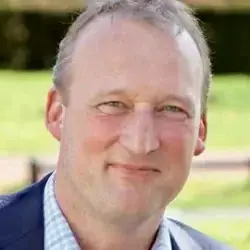 The technical implementation of Slimstock's software layer for sales & operations planning (S&OP) and integrated business planning (IBP) takes just ten days. "You're all set for S&OP and IBP for 5,000 euros per month," says CEO Eric van Dijk.
The Netherlands-based multinational supply chain software vendor Slimstock has developed an add-on layer for the S&OP and IBP decision-making processes. "Based on the five stages of maturity, we came to the conclusion that customers have been using our Slim4 inventory management solution to handle the first stage (matching supply and demand) and the fifth stage (sharing forecasts and planning schedules with their customers and suppliers) for years," explains Van Dijk, founder of Slimstock (photo).
"But not for the intermediate stages of internal alignment between departments in S&OP in volume terms and IBP in financial terms. What we often see in practice is that the board simply increases the budget target by a certain amount based on the performance over the past few years, without filling in the details. For example, a fast-growing retailer will state that it wants to grow by an additional 5 million euros in China, but it isn't clear exactly how. Or an industrial wholesaler might have won a global tender to supply pipes to a major oil company over the coming years but the quantities haven't been specified. With the IBP software layer we've developed, we can make these objectives concrete."
Rapid implementation
Countless companies in Slimstock's target segment of retail and wholesale are looking for S&OP solutions, according to Van Dijk: "It often becomes an IT project instead of a process to find a solution. But because this newly developed layer is added on top of the existing Slim4 application, implementation only takes around ten days so it's no longer an IT project. Instead, it's about consultants establishing the right meeting cycles and processes to support it. As Slimstock, we take care of the technical implementation process and leave the change process to specialized consultants."
As Van Dijk sees it, a key benefit of this solution is that it helps companies to focus on concrete commercial initiatives that will enable them to achieve their budget targets. "Our new solution provides an overview of how the entire business is performing and evolving in a single dashboard. For example, a retail company's executive board might set a target of growing the business in Southern Europe by 20 million euros. They give managers approval to execute projects such as opening a flagship store in Madrid, a handful of new shops at Milan Airport plus a new online channel. These initiatives might generate 10 million euros in extra business, but what about the rest? Our software enables the company to precisely monitor how all the projects are progressing, how much revenue they are generating and how much working capital is required."
Solid foundation
Implementing this software layer does not pose challenges in terms of contaminated data, which is a common problem nowadays. "The underlying data is already present in Slim4, so the foundation is solid. It's a seamless process, because in Slim4 we extract market and customer data from the ERP system at transactional level and check for outliers at customer level."
For levels 2 and 3, the software costs 3,000 euros per month. "My advice to clients is to run the software for at least six months, because that provides real insight into the business based on real numbers. Level 4, which helps you to develop concrete plans to fill the gaps in the budget in line with the commercial objectives, costs an additional 2,000 euros. So for 5,000 euros a month you're all set for IBP."