Scania explores tracking & tracing for incoming goods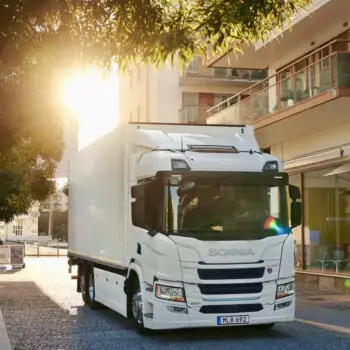 Truck manufacturer Scania Group plans to start tracking & tracing incoming goods and is currently testing a solution by InnoTractor. This Dutch start-up is using Internet of Things (IoT) technology to help Scania gain insight into inbound logistics from 1,500 suppliers by tracking trucks, trailers and goods.
Last year, teams from InnoTractor and Scania met up at the Foundry Value Proposition Days to discuss the opportunities related to the 'Digital Thread of Connected Goods'. Their goal was to upgrade the way Scania Logistics identified and tracked its global supply chains. Since then, the two companies have set up a test case to explore a potential solution.
The first real-life test this autumn will track goods between facilities in Sweden and the Netherlands. Uniquely, the solution can track all three elements of transport: the truck, the trailer and the goods themselves. Moreover, the tracking solution can be tailored to each customer's needs. In the test case, Scania Logistics will receive tracking data directly from the trucks.
Solution for Scania
InnoTractor's solution for Scania includes specialized hardware and cloud systems to provide a semi-real-time picture of where certain goods are located. The hardware consists of batteryless Bluetooth tags attached to the goods, which are powered and scanned contactlessly for warehouse localization, and a mobile tracker for the transport between warehouses.
The data is collected, processed and then presented in the Gravity IoT platform. This has a dashboard that shows which goods are ready for shipment, which are in transit and which have arrived. In between these steps, handovers are made which are logged in DiLLaS, a blockchain-based ledger service.
Lack of grip
"Inbound logistics is an important part of Scania's supply chain," says Patrik Johansson, Supply Chain Developer at Scania Logistics. By testing new technology, he says, the company aims to sustain the operational excellence that customers expect. Frank Hermans, founder of InnoTractor, is proud to be working with Scania. "We see this as an opportunity to showcase a solution to a problem that many companies face: a lack of grip on what is really happening in the logistics chain," he comments.