RHI Magnesita regains control of its freight transport thanks to global TMS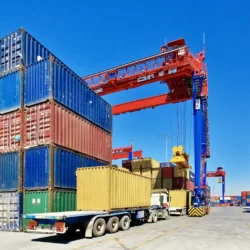 Tight control over global transportation activities is more important than ever nowadays. The Austrian/Brazilian company RHI Magnesita had actually decided to centralize and modernize its transportation organization even before COVID-19 arrived on the scene. During a recent Webinar Wednesday organized by Supply Chain Media, the manufacturer of refractory products explained how Oracle's transport management system played a role in this. In view of the ongoing problems in international freight transport, the benefits of end-to-end transportation management are becoming even more apparent.
By Marcel te Lindert
If containers are not collected and emptied on time, shipping companies charge additional demurrage and detention fees. These amount to sizable costs in RHI Magnesita's supply chain, but the new transport management system (TMS) is aimed at changing this. The TMS includes a workbench that gives the RHI Magnesita planners insight into the status of all containers. "For each container, we can see how many days remain until the shipping company starts charging extra costs. Based on this, our planners arrange for containers to be collected from the port on time and to be transported to their final destination sooner," said Marc Jägers, Manager of Global Transportation Management at RHI Magnesita.
The TMS in question was supplied by Oracle and integrated with the FourKites and Inttra visibility platforms. FourKites provides real-time status information on all airfreight and road transport shipments, and Inttra does the same for ocean freight. "The example of demurrage and detention costs illustrates the benefits of an integrated visibility and transport management solution. It enables us to keep our costs and service levels under control."
Modernizing the transportation organization
RHI Magnesita's supply chain includes 28 manufacturing sites in China and Brazil which supply refractory products to customers in more than 150 countries. Three years ago, to further improve its supply chain performance, the company opened an office in Rotterdam employing 120 supply chain specialists. This supply chain team is the driving force behind a major transformation project with six key objectives, one of which is to modernize the global transportation organization. This was a well-timed step, since the pandemic broke out shortly after. "We operate in a very complex logistics environment. Given the current circumstances, it is extremely important that we get a grip on our transportation operation. We're seeing transport costs spiral out of control, while it's becoming increasingly difficult to deliver on time," stated Jägers.
At that time, RHI Magnesita's transportation operation was far from mature; the company lacked an adequate TMS and standardized, uniform processes. "We started by mapping out the as-is and the to-be situations. We then formulated a strategy to advance to the next level of maturity by first improving our operational excellence and then improving our service excellence."
Involving all stakeholders
But it takes more than just a new TMS to modernize the global transportation organization, according to Jägers: "It's a fairly pointless exercise to implement new technology without tackling the processes, organization and strategy. Your system will be new, but you will still have the same inadequate processes, organization and strategy. Therefore, during the implementation, we started working on harmonizing, simplifying and standardizing processes. We also set up a control tower to manage the global transportation activities, and we formulated a clear transportation strategy in line with our corporate strategy."
The new TMS provides the foundation for this revamped transportation organization, which is why RHI Magnesita took care during the selection process. The system had to give them insight and control of all transportation activities, both upstream and downstream. "A system like this is a decision for the long term, which is why we invited all three shortlisted TMS vendors – together with their implementation partners – to attend a two-day workshop. We also invited representatives from all of our departments that would work with the TMS in any way – such as IT, logistics, purchasing and finance. It was crucial that all stakeholders were involved in the process."
Integration with external platforms
For two days long, the three TMS vendors gave demonstrations and the people from RHI Magnesita could ask them any questions they liked. During the workshops, all stakeholders used an on-screen digital scorecard to rate the solutions. The Oracle transportation management system emerged with the highest score. "One key factor was how easy it is to connect this TMS with external platforms, such as for real-time visibility. Oracle has a standard integration with the FourKites and Inttra platforms, for example. It's also important that we can use the data from the TMS to give our customers insight into their order status via a portal. We also want to put the huge amount of data into a data warehouse and make it accessible for our business intelligence tools."
RHI Magnesita uses the TMS to optimize freight flows and routes and to select the right carrier for each route. Thanks to the integration with FourKites and Inttra, Jägers' team can see whether shipments will arrive on time and notify customers of the estimated arrival times. The invoicing process is automated based on self-billing. The data generated by all these processes is subsequently used as input for tender procedures and price negotiations. "All transportation employees work with the Oracle TMS. Rather than having to log in to the FourKites and Inttra platforms, they receive all the relevant information directly in the TMS. And in the future, we can easily set up integrations with other platforms such as Uber Freight or Xeneta."
Proactive intervention
The new TMS has not led to drastically different choices so far. "That's because we're still in the process of implementing it," explained Jägers. "We only started rolling out the system in China in December, so it's still too early to say anything about concrete improvements and savings. But if we had implemented the system a year earlier, we could have avoided many of the current problems. Why? Because we would have had more visibility into the operation and could have intervened proactively. It goes without saying that the new system will generate value for us."