Recording & slide deck Zoë Kokje Schouten, AIMMS | inNOWvate Supply Chain Event 2023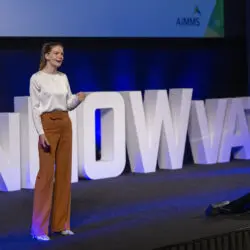 Have you ever wondered if it is possible to rate your supply chain design on internal and external risks? With the advent of AI, this is no longer a distant dream.
AIMMS helps companies de-risk their supply chain and respond before regulations change, climate impact affects your assets, customer demands evolve or hidden weaknesses catch you by surprise. We will soon launch this novelty but you can already get a sneak peek.
Download the co-created Checklist for network design tooling of AIMMS for free on Supply Chain Movement.
Download:
Slide deck inNOWvate Supply Chain Event 2023 – AIMMS (May 11, 2023)