Recording & slide deck Jonatan van Groos, ChainPoint | inNOWvate Supply Chain Event 2023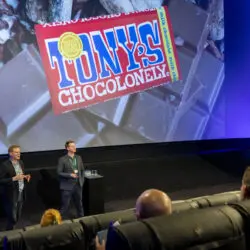 Meet Tony's Chocolonely and Closing the Loop. Two companies on a mission. Software solves a big part of their sustainability puzzles. In this presentation they take you along and explain how and why that is.
Closing the Loop, a social enterprise, was introduced as an advocate for circularity in the electronics industry. They tackle resource scarcity and waste by offering waste compensation services. By removing end-of-life devices from emerging markets, they recycle materials and reintroduce them into the economy, promoting a more sustainable and circular approach. However, the complexities of logistics pose significant challenges to proper recycling. ChainPoint's traceability solutions aid Closing the Loop in establishing a collection infrastructure and developing local recycling facilities.
Fostering fair supply chains
Tony's Chocolonely, a renowned Dutch chocolate brand, aims to eliminate slave labor and ensure fair working conditions in the cocoa supply chain. They face the information problem within supply chains, necessitating traceability and transparency. ChainPoint collaborates with Tony's to reimagine supply chains, ensuring visibility and accountability at each stage. Through their software solutions, ChainPoint empowers Tony's and builds consumer trust by delivering on their commitments. The Tony's Open Chain initiative extends their impact to other chocolate and cocoa companies, fostering fair supply chains.
The presentation emphasized technology's crucial role in achieving sustainability goals. ChainPoint's software solutions enable traceability, transparency and accountability, empowering companies to make a real impact. They expressed pride in contributing to a better world and highlighted the potential for technology to inspire change across industries.
Missed the presentation?
Download:
Slide deck inNOWvate Supply Chain Event 2023 – ChainPoint (May 11, 2023)