Recording & slide deck Auke Annema, BigMile | inNOWvate Supply Chain Event 2023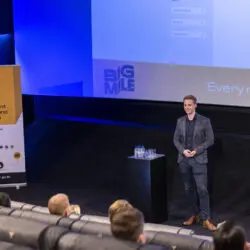 Measuring and reporting on carbon emissions will become mandatory from 2024 onwards. Within the recently adopted Corporate Sustainability Reporting Directive (CSRD) in Europe, large companies must report on Scope 3 emissions, including the CO2 emissions of (outsourced) transportation.
Do you want to know how to prepare your logistics operation for the upcoming European regulations on CO2 measurement and reporting? Then watch the recording and learn how to embed sustainability reporting in your day-to-day logistics operation.
Auke Annema, business consultant at BigMile, will share some industry examples of lowering the transport-related carbon footprint by optimizing supply chain planning. He will also talk about the next big thing: nitrogen oxide (NOx).
Download the co-created checklist Optimizing the CO2 footprint of BigMile for free on Supply Chain Movement.
Missed the presentation?
Download:
Slide deck inNOWvate Supply Chain Event 2023 – BigMile (May 11, 2023)