Recording session Solventure at inNOWvate Supply Chain Event 2021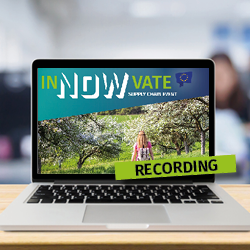 'I believe that the COVID-19 crisis will be a game changer for supply chain. CEOs, boards, investors, everybody has understood that in general we have been slow to react, and that increased agility in the supply chain is not optional but mandatory.' Says Prof. dr. Bram Desmet, CEO of Solventure and author of the recent publication "Strategy-Driven Supply Chain".
In a VUCA (volatility, uncertainty, complexity and ambiguity) post-corona world, companies feel the need to rethink their supply chain processes. And ask questions like: 'How will we maximize business value while facing capacity issues or a shortage of raw materials?'. Topics such as Customer-Product Segmentation and Product Management become critical in case of constrained capacity and when less profitable products and customers can run away with the scarce resources. To make sure service is not spiralling out of control, Bram Desmet stresses the importance of segmenting; 'Because let's face it, 2 customers never have the same volume, margin, willingness to innovate, loyalty to your company or brand. So, how do you differentiate your customers and products? Customer-Product Segmentation is the compass to navigate towards better business.'
When diving further into the process side of S&OP, now more than ever, companies won't be able to rely solely on historical data to make new forecasts. The effect of the pandemic made forecasting even harder than it already was. Demand teams need to look beyond their company walls to enrich the baseline forecasting process with external information. This external data makes it possible to forecast higher level trends, to detect turning points and to get strategic insights in the market.
Taking these sociological and economical trends into account to develop a next level of S&OP process while integrating the right tooling to support further growth, will be key for supply chains in the years to come.
Missed this session?
The recording is available on the YouTube channel of Supply Chain Movement. The slide deck is available for download below.
Download:
Slide deck Session Solventure inNOWvate Supply Chain Event 2021