Recording session Blue Yonder at inNOWvate Supply Chain Event 2021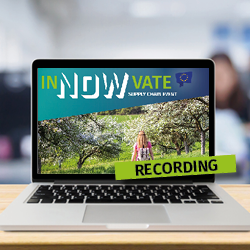 The fashion industry is one of the largest polluters worldwide and consumer preferences are shifting away from fast fashion to more sustainable options. Companies working within the industry need to change their practices and adapt new processes to be relevant and stay competitive. ​
The manufacturing processes in the fashion industry requires considerable amounts of water and materials used in products are not always biodegradable. Furthermore, online shopping is on a rise and during the pandemic online shopping has reached new levels. This shift in consumer behavior requires a fully connected supply chain that is able to meet customers' fast changing demands and sustainability expectations. ​
The supply chain needs to be ready for this digital transformation and have the capabilities to meet customers rapidly changing demands and to transform their supply chains to be more sustainable. Lenzing AG, the world's leading producer of wood based cellulosic fibers made from sustainable managed resources, produced responsibly and fully biodegradable, has gone through a transformation to adopt industry best practices. The objective was not only to transform their processes, but the whole fashion industry. With closer relationships to supply chain partners and connecting the entire value chain, Lenzing aim to minimize their environmental impact. ​
Value Chain Manager, Simeon Nachev, makes sure that the Business & Supply Chain at Lenzing are ready to adapt to the new international business "norm" – Disruption. To achieve a more sustainable supply chain, resources need to be managed in a most efficient way. Planning plays a key role in that, with operations planning and operations execution needing to be aligned. What is required in order to remove planning silos and have a boundaryless integrated planning, while at the same time contributing to a better future world?
Missed this session?
The recording is available on the YouTube channel of Supply Chain Movement. The slide deck is available for download below.
Download:
Slide deck Session Blue Yonder inNOWvate Supply Chain Event 2021