Primark promises more sustainability without higher prices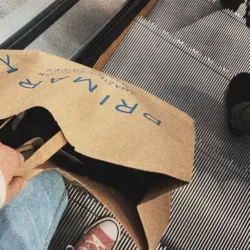 Primark, the Irish 'fast fashion' chain, is taking serious steps to become more sustainable. The company has developed a ten-year plan aimed at making both itself and its suppliers 'greener'. Primark CEO Paul Marchant claims that the sheer scale of the company's production activities mean that this will not lead to higher prices for the retailer's customers.
Primark, which currently has 397 stores in 14 countries, is known for selling extremely cheap clothing. In fact, many critics say it is too cheap and call it 'disposable fashion'. Primark is now launching a new sustainability strategy aimed at becoming more circular and sustainable, not only in terms of its own activities but also throughout the supply chain.
9 concrete commitments from Primark
Primark's new sustainability strategy includes nine concrete pledges. For example, the fashion retailer has committed to improving the durability of its clothes from 2025; they must be able to be washed at least 30 times without wear and tear. The clothing must also be recyclable. In addition, all disposable plastic will be banned and the retailer will halve carbon emissions across its value chain by 2030. Moreover, the company will strive to ensure that all workers in the supply chain receive a living wage.
Primark is involving its customers in the sustainability strategy too. To inform shoppers of the planned changes, the company is launching a campaign called 'How Change Looks'. The retailer is also making it easier for them to make their own contribution to going greener, such as by installing recycling bins in stores for the collection and recycling of unwanted clothing. Primark also intends to educate consumers on techniques to extend the lifespan of their clothing, such as how to make minor repairs and tips for washing their clothes more sustainably.
Better for the planet
CEO Marchant calls it an ambitious and exciting move: "Our ambition is to offer customers the affordable prices they know and love us for, but with products that are made in a way that is better for the planet and the people who make them. We know that's what our customers, and our colleagues, want and expect from us." According to Marchant, a quarter of all items sold are already part of the 'Primark Cares' collection, which means they are made from recycled or more sustainably sourced materials.
"Our new commitments represent a significant acceleration in the pace and scale of change. We want to think differently about how we operate – from the design of our clothing to production and sales. We don't have all the answers and we know we can't do it alone. We're committed to work in partnership with the industry to drive real change at scale," Marchant added.
Greenwashing
Critics have questioned Primark's intentions and speak of greenwashing to boost its own image. However, the fact remains that in recent years the fashion retailer has committed to several initiatives supporting a move towards more circularity, including Textiles 2030 and the Ellen MacArthur Foundation. Additionally, since 2013, Primark has been a member of CottonConnect, which aims to promote more sustainable textile supply chains.