Partner session o9 Solutions | S&OP Vendor Day 2021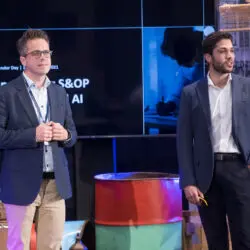 During S&OP Vendor Day 2021 Koen Jacobs and Joao Franklin Gouveia presented their solutions in a break-out session: "Transforming Sales & Operations Planning with Digital and AI".
AI continues to dominate the conversation around demand forecasting, revenue management and supply chain planning. Is your business future-proof, and if so, how? We address common obstacles businesses face and how they can solve them by leveraging the o9 Digital Brain.
Key topics discussed:
Insights of how different sized companies across industries are using advanced analytics and next-gen planning technologies.
Deep-dive on use cases in digital tools and AI in the areas of demand forecasting and supply chain planning.
Taking traditional presentations and meetings into the future with next-generation S&OP.
The architecture of the o9 Digital Brain and how it fits in the overall digital transformation journey.
Missed this session?
The recorded session is available on the YouTube channel of Supply Chain Movement. The slide deck is available for download below.
Download:
Slide o9 Solutions | S&OP Vendor Day 2021