Panic buying will worsen supply chain disruption from the war in Ukraine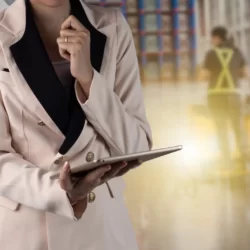 Responding to Russia's invasion of Ukraine by overstocking and double-ordering supplies risks creating unnecessary disruption, says Professor Carlos Cordon.
By Carlos Cordon
From discussions I've had with supply chain managers over the past week, it is clear there is a huge sense of panic over the potential disruption to supply chains from Russia's invasion of Ukraine, and the resulting wave of economic sanctions from the West.
For some sectors, the concern is well-placed. Russia and Ukraine together account for nearly 30% of the world's wheat exports, around a fifth of its corn trade and almost 80% of sunflower oil production, according to the US Department of Agriculture. The ongoing conflict and restrictions on Ukraine's ability to harvest and export commodities will likely lead to shortages of cereals and feed stock for animals in the long term, pushing up food prices.
Ukraine also produces most of the world's supply of neon gas, which is critical for the production of silicon wafers, exacerbating a shortage of microchips used in everything from smartphones to cars. Some carmakers are already struggling to obtain crucial wire harnesses after factories in western Ukraine were shuttered when Russian troops rolled into the country.
Unleashing a spike of demand that may be phantom
The uncertainty over how long the war will last and the economic fallout for the supply of raw materials is also prompting other companies, which are not currently directly affected by shortages, to panic. Yet, in this case, panic buying by firms risks exacerbating rather than alleviating shortages, unleashing a spike of demand through the supply chain that may turn out to be phantom.
Fearing disruption to future energy supplies for manufacturers, one maker of locks is buying up steel after Germany halted the Nord Stream 2 Baltic Sea gas pipeline. But so far, the war in Ukraine has not interrupted gas supplies from Russia.
Another concern is that the disruption in Ukraine could spill over into neighbouring countries including Romania and Poland – the base for many factories supplying European companies after firms sought to bring production closer to home.
History has taught us that ripple effects from disruption caused by conflict and natural disasters can be felt widely. When the most powerful earthquake ever recorded in Japan triggered a tsunami in the north-east of the country and flooded the Fukushima nuclear power plant in 2011, it impacted electricity production nationwide, shuttering factories in the south.
But companies which fill up their warehouses now, anticipating future blockages in the supply chain, may find themselves stuck with stock they bought at elevated prices that they may struggle to shift further down the line.
Beware of panic buying at high prices
I often tell firms to heed the example of an Australian stockpiler who bought thousands of dollars' worth of toilet paper and hand sanitizer at the start of the COVID-19 pandemic. After failing to sell the goods online, he tried to return the items to the supermarket, but was refused.
Since the invasion, prices of Russian-produced resources like oil, wheat, aluminium, and nickel have surged as traders anticipate that supplies will become harder to get hold of in the event of a prolonged conflict. On Monday, 7 March, oil prices spiked to their highest level since 2008, while natural gas futures hit an all-time high.
Companies that join the rush to buy raw materials now may be burned later if prices drop and they find themselves with excess inventory. While the impact from the war in Ukraine will be felt around the world, the disruption is unlikely to be as big as during the COVID-19 pandemic.
Identify the weak links in your supply chain
Rather than indiscriminately buying up extra stock, firms should forensically examine their whole supply chain to identify the weak links and forecast the exact quantities of stock needed to keep production running for a certain period of time. Is it possible to find replacements for some gases or raw materials? Can production of certain parts be ramped up elsewhere? Can alternative suppliers be found elsewhere?
Panic buying risks turning anticipated supply chain bottlenecks into a self-fulfilling prophecy. While it is tempting to try to hedge against further disruption by filling up warehouses, a more sanguine approach to ordering will prevent spikes in demand from derailing global supply chains.
This article was first published by IMD on March 8, 2022.
Carlos Cordon is a Professor of Strategy and Supply Chain Management. Professor Cordon's areas of interest are digital value chains, supply and demand chain management, digital lean and process management.