Only 8% of companies worldwide have achieved digital maturity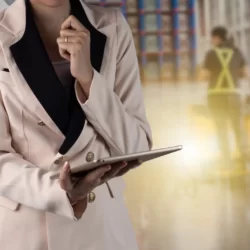 Only 8% of companies worldwide are digitally mature enough to mitigate supply chain disruptions, according to a new study by GEP. The survey was conducted by Harvard Business Review Analytic Services among approximately 300 executives.
GEP, a provider of procurement and supply chain solutions for Fortune 500 and Global 2000 companies, has published the findings in its State of Global Supply Chain report. It shows that the importance of supply chains has increased dramatically – and so too has the urgent need to transform them.
90% of companies say that supply chains are a strategic resource contributing to their organization's profitability and survival. However, it seems that only 8% have achieved digital maturity across all six areas of warehousing and logistics, procurement, inventory management, supply planning, demand planning and management, and supplier risk management.
As a result, companies are now trying to digitally transform their supply chains too quickly, with nearly 70% accelerating the modernization of their processes. This includes placing more emphasis on collaboration tools and real-time demand forecasting analytics in the hope of both anticipating and mitigating future disruptions.
Only 28% of the companies surveyed see themselves as 'leaders' and as having achieved a high level of digital maturity across key supply chain operational areas. Half of them also lack the capabilities to track end-to-end performance within the supply chain.
The lack of real-time data on end-to-end supply chain performance is the biggest barrier for most companies. Additionally, only a fifth of companies can quantify the return on investment (ROI) of their efforts to transform the supply chain.
Lack of control
"Many global companies spent the last 30-plus years outsourcing everything from back-office functions like IT to the last-mile delivery to customers, and as a result they don't have sufficient control and are at a material competitive disadvantage," comments David Doran, Vice-President Consulting Services at GEP.
"I am not saying to disregard outsourcing — in fact, the disruption to the world's supply chains is going to get worse, so companies need to accelerate their investment to build resilience, flexibility, visibility and control over their complex, multitier, interdependent global supply chains. But they need to do it right."
Agility and business reliance are top priorities
In response to supply shortages, cyberattacks, skyrocketing logistics costs, volatility and inflation, companies are rapidly transforming their supply chains expressly to reduce business risk and improve resilience. In doing so, achieving agility and business reliance is a top supply chain priority for three-quarters of respondents, alongside reducing risks and costs.
Two-thirds of organizations cite automating operations as a top procurement priority. More than half expect funding for supply chain transformation to increase this year. Most of that funding will go towards analytics, demand sensing, AI and robotics/automation.