New board game seeks to transform supply chain learning
Three years after its inception, Business on the Move launches a new board game designed to teach young people of all ages about the importance of today's supply chain in global commerce. The game aims to inspire, excite and educate young people from the age of 9 to 19, and beyond. Business on the Move has already won an award under the Royal Bank of Scotland's Inspiring Enterprise initiative and from the UnLtd charity which supports social entrepreneurs.
The game has been devised by two former Business Studies teachers – Andy Page and Pat Smedley – who set up their Community Interest Company (a social enterprise registered through Companies House where ther are no dividends and the assets are "locked into the community")  in 2011 to create a versatile supply chain game that could be used by teachers across age groups, school subjects and ability levels.
The goal of the game is for players to move different products from China to their UK customers by land, sea and air, as quickly, as profitably and as responsibly as they can. In so doing, they are faced with taking decisions similar to those made regularly by many businesses, such as: "How do I meet the delivery deadline?"; "Will I make a profit?"; "How can I improve my supply chain?"; and "How can I cut my carbon footprint?"
Extensive trials of the game in more than 30 schools as well as businesses have proved both its relevance to today's commercial world and the classroom, as Smedley explained: "Research shows that active learning improves students' understanding and retention of information and can be very effective in developing higher order cognitive skills such as problem solving and critical thinking."
One of the game players, Ryan Bailey, an apprentice with Norbert Dentressangle remarked: "As a new recruit into the logistics industry playing this board game gave me a brilliant overview of how global supply chains work; I learned such a lot in a short space of time and enjoyed myself too – I hope to be able to utilise some of the skills learnt during my career with Norbert Dentressangle!"
To date, nearly 600 young people, teachers and supply chain professionals have played Business on the Move, with another 15,000 young people projected to play over the next 12 months. Page and Smedley's vision is that by 2020 over 100,000 people will have played the game.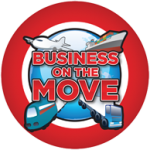 It is expected many of the games for sale will be snapped up by companies wanting to donate class sets of five games into their local school, complete with training. Steve Foster, Supply Chain Strategy Manager at Marks & Spencer, said: "This initiative is a unique and fun way for us to engage with our local school communities and bring supply chain and logistics into the classroom in a way that can impact on so many areas of the curriculum. It is a great way of developing commercial and problem solving skills while increasing awareness of the environmental impact caused by the movement of goods around the world."
Watch the video about the game>>