'Net Positive' is an absolute must-read for every manager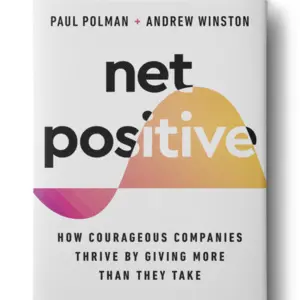 There has been a revolution in the world of management books. Whereas in the past they were mainly about improving performance, being agile and becoming more efficient, today they are invariably about reducing the carbon footprint and improving sustainability and circularity. Net Positive, by former Unilever CEO Paul Polman, takes this to the extreme and is an absolute must-read for every manager.
By Harm Beerens
New books are published every month calling on CEOs and other decision-makers to accelerate their efforts to make their products and supply chains more sustainable. The books are usually written from people on the side lines, such as scientists, policymakers, consultants or trendwatchers. These people are not managers themselves, but draw on their expertise to tell companies how they can reduce their climate impact. Such books are hardly ever written by CEOs or other professionals with first-hand experience of the issues covered. That alone makes Net Positive a unique book; author Paul Polman was CEO of Unilever for a decade and has put everything he describes in the book into practice in real life.
Obsession with profit
In the book, Polman and his co-author Andrew Winston warn that while capitalism has brought the world prosperity, its negative side effects now threaten to destroy that very same world. The Milton Friedman Doctrine, which holds that everything within a company revolves around the shareholders, has created CEOs who only think about short-term profit and feel absolutely no responsibility for their company's contribution to problems such as resource depletion, global warming, ocean pollution, modern slavery, poverty and inequality. But the message in Net Positive is that businesses should work to relieve these situations: to fix the world's problems rather than creating them. Eliminate CO2 rather than emitting it, reuse your waste as raw materials, create a dignified existence for the entire supply chain rather than just paying your own employees a good salary, create equal opportunities for everyone rather than filling your boardroom with white men.
Setting magical goals
Polman set to work with these sky-high ambitions when he was appointed as CEO of Unilever in 2009. It is fascinating to read how he managed to get the huge multinational with 150,000 employees to agree to his seemingly impossible goals, such as 'Halve environmental impact and double sales', and 'Significantly improve the health and well-being of at least a billion people on Earth'. When you set goals that seem almost unachievable, something magical happens in a company, according to the authors. Employees start thinking differently and become inspired. Polman himself took the lead in this; he stopped being accountable to investors every quarter and instead focused on 'social stakeholders' such as non-governmental organizations (NGOs), governments and even the United Nations. He knew that they were the parties he needed to work with to achieve his ambitious sustainability goals. It is not possible to provide cocoa farmers in Africa with a decent living or stop deforestation in palm oil-producing countries, for example, by acting alone as a company, as a supply chain or even as a sector.
Cultural change
Net Positive is an inspirational book. However, it is not an instruction manual that tells you how to do things like reduce the carbon footprint of your supply chain operation. Instead, it shows how companies can change their culture, bring in the right people and work together with external partners to achieve ambitious goals. The book also contains plenty of interesting material for hardcore supply chain professionals, such as how to use financial incentives to encourage your suppliers to reduce their climate impact, or how to turn your supply chain thinking on its head – as illustrated by an example from Starbucks (because this book is not only about Unilever). Starbucks' analysis showed that 21% of its CO2 emissions were caused by the cows producing the milk used in its coffees. But instead of asking its suppliers to reduce their impact, Starbucks decided to explore the possibilities of plant-based milk substitutes.
Good business sense
The authors' underlying message is that becoming 'net positive' also makes good business sense. It's not something you should do purely out of humanitarianism or to be woke; it's an absolute necessity. After all, if there are three billion climate refugees, and if 1% of the world population hold all the wealth, who will be left to sell your products to? Moreover, companies that make a positive contribution to the world perform better financially. Figures from the US research firm Gallup back this up, and Unilever shareholders certainly couldn't complain either; over the ten years that Polman was in charge, the earnings per share were more than twice as high as those of other companies listed on London's FTSE stock exchange. This went hand in hand with impressive sustainability results: a 65% decrease in CO2 emissions, 49% less water was used in manufacturing, 67% of agricultural raw materials were grown sustainably, and so the list goes on.
And a net positive approach can help you to win the battle for talent too. Unilever receives two million applications each year for 15,000 job openings. Three-quarters of new employees say they chose Unilever because they identify with what the company stands for. So there's more than one side to the sustainability coin.
'Net Positive' (2021), Paul Polman & Andrew Winston, Harvard Business Review, 272 pages, €15.99