Mobile robots were everywhere at LogiMAT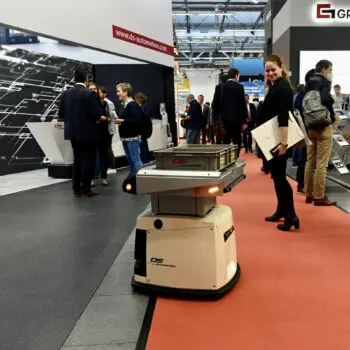 Autonomous mobile robots (AMRs) are flooding the market. That is the most striking conclusion after a visit to LogiMAT, Europe's leading trade fair for internal logistics, held in Stuttgart from 31 May to 2 June. In fact, professionals who attended the fair hoping to explore the AMR market probably felt overwhelmed after a day of browsing the stands. Now, the real question is whether the market is actually big enough to support all of these AMR providers in the longer term.
By Marcel te Lindert
The innovation director of an internationally active logistics service provider once told me that he was thinking about building his own autonomous mobile robots (AMRs). He had hosted pitches from numerous AMR vendors selling robots at thousands of euros each, yet the individual components could be bought for just a few hundred euros from AliExpress and the control software was readily available too.
Hip and happening robots
Many other people have now realized this, it seems. At LogiMAT, which has evolved into the leading logistics trade fair in Europe, there were dozens of AMR vendors. Many of the robots on display had trendy colours and flashing LED lights, and some of them even performed tightly choreographed dance moves. The exhibitors included numerous newcomers trying their luck in this relatively new, open-to-all market.
But it's not only newcomers who see opportunities in mobile robots; even companies with a well-established reputation for internal logistics products such as warehouse trucks, mini-load cranes or shuttle systems – such as Jungheinrich – had hip and happening robots on their stands. Having said that, it wasn't always clear whether the robots have actually been implemented in practice or were mainly on display to create the impression that the suppliers are moving with the times.
Scalable and flexible
What makes AMRs so appealing is the fact that they are scalable and flexible. Companies can easily set up a proof-of-concept without having to make major changes to their warehouse. If they like the results, they can quickly and easily deploy additional robots without first having to hire in a programmer for several days. However, companies looking for an automation system that can cope with high volumes probably need something else rather than just a few AMRs.
It's not even always necessary to set up an ERP or WMS integration. For example, German technology company Bosch received an innovation award on the first day of LogiMAT for its stand-alone AMR concept. When an operator has prepared a dolly at a marked location, a sensor tells the AMR system that the dolly is ready to be picked up and taken off to its pre-programmed destination. Bosch has designed this AMR system primarily for the delivery and collection of goods in production/assembly lines.
Internal transport and sorting
In terms of the other applications that were on display at LogiMAT, the vast majority of AMRs were for transporting totes, boxes, pallets, dollies or roll cages. Many vendors have developed their own version of Amazon's Kiva system, in which the AMRs carry shelves of stock to an order picking station. Since the order pickers can wait there rather than having to walk and search for the right picking location themselves, they are much more productive.
In addition, AMRs can be used for sorting products, in which case the mobile robot sorters have a conveying or tipping mechanism rather than a lifting mechanism. When a product is placed on the robot, either manually or automatically, the AMR goes to the correct location and deposits the product. This solution can be implemented without companies having to install a complex system of conveyors and sensors.
Concepts from America and Asia
There were some notable concepts from AMR vendors from outside of Europe. American suppliers such as Locus Robotics and 6 River Systems are causing a stir with robots that accompany order pickers as they move around an existing warehouse, with the items and quantities to be picked indicated on the robot's screen. When an order is complete, the robot goes to the packing area and the next robot joins the order picker so that the work can continue.
Meanwhile, vendors from Asia such as Geek+ and Hai Robotics were at LogiMAT to display their autonomous case-handling systems. These robots independently navigate their way around a bin warehouse and can also independently retrieve and replace bins. They can carry up to ten bins at a time. This makes these robots a good alternative to traditional mini-load or shuttle systems, without the need to install rails, conveyors or lift systems.
Software is key
So how can you select the right AMR for your warehouse? Several AMR vendors displayed almost identical robots, which proves that the robots themselves are all pretty similar. The main difference lies in the software that enables the robots to navigate the warehouse, avoid obstacles, handle orders and cooperate with each other. Another key difference is the vendor's experience of designing smart concepts that are tailored to the sector's wants and needs and that seamlessly integrate with the other warehouse processes. In other words, before embarking on AMRs, it's necessary to do some preliminary research – and a trade fair like LogiMAT can be a good place to start.