Mindmap Pharma Supply Chains 2.0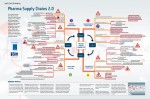 The worldwide market of the pharmaceutical industry is under enormous pressure, due to changing patient target groups, scientific developments and increasingly stringent regulations. This has considerable consequences for the supply chains. In order to find the right strategic solution for this, Supply Chain Movement, and Riverland Management Consultants have developed a clarifying mindmap.
Mind map manual
The pharmaceutical industry has been enormously in flux in the last few years, after a long period of stability. A big influence from intense global and local legislation and regulations and a great number of (large) take-overs are influencing the playing field significantly.
Review
The first step of this mindmap takes stock of the external developments, of which legislations and regulations, a shifting geographic centre of gravity and changed financing of research on the one hand and care on the other hand are the main ones.
Diagnose
The second step specifies the areas in the pharmaceutical companies' supply chains that need attention as a result of changes in structure and behaviour within the industry sector. Within the pharmaceutical industry, supply chain management has long been a theme that was low on companies' lists of priorities. Supply chain costs represent only a small percentage of the business; higher profit margins did not bring cost awareness with them.
By now, both the role and the importance of well-thought-out supply chain management are changing significantly, particularly for companies that operate in the generic segment.
Plan
In step 3, companies will have to make decisions about the supply chain in order to make use of the opportunities identified in step 2 and handle the specific risks from the same step. Due to the character of these decisions, change in the areas of activities, processes, cooperation and guidance of this, will potentially be far-reaching.
Execute
Step 4 is about the development and execution of specific alternatives within the supply chain. For each of the alternatives, companies will have to test the applicability and ask how this alternative will contribute to optimum use of opportunities.
In addition, they must determine very clearly for each alternative how it has to handle identified risks and how to meet the preconditions formulated in the previous steps.