Michelin aim to achieve global end-to-end visibility
Michelin are implementing OMP Plus in their Upstream Department for full end-to-end visibility and planning of all make & buy operations. All customer and supplier inventories are regularly refreshed and visible to all those involved. Rollouts are ongoing and in the final stage there will be about 150 users working with the application, in approximately 100 factories and supply chain locations.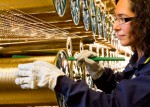 The Upstream Department consists of 70 fully owned factories globally and is encompassing the following materials: textile and metallic reinforcements, synthetic and natural rubber, textile and metallic tissues and mixing. The application is centrally hosted and integrated with Oracle Business Suite and the PLM Enovia and Delmia from Dassault Systems.
Ralph Beaujard, Director of the Upstream transformation program states: "We are building, with OMP Plus, a global platform to ensure true collaboration of all participants in the Upstream Supply Chain, allowing more agility to respond to changing situations. With OMP Plus we aim to achieve significant improvement in our global end-to-end visibility and our operational planning and scheduling."