Maersk warns of declining demand for container shipping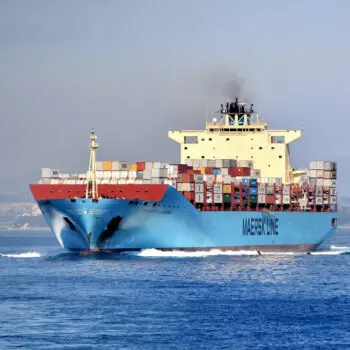 Container shipping giant A.P. Møller-Maersk has warned of a steeper drop in demand for global shipping containers over the course of this year. The main reasons for this are weak economic growth and manufacturers continuing to cut down their inventories. Whereas the firm was previously anticipating a 2.5% decline in container volumes, it is now expecting volumes to fall by as much as 4%.
With a market share of around 17%, Maersk is one of the world's largest container shipping companies. "We had expected customers to have reduced their inventories by the middle of this year, but so far we've seen no signs of that. As a result, the increase in volumes we expected for the second half of this year has not materialized," CEO Vincent Clerc stated during a press conference.
Hundreds of new container ships
Despite this, Maersk posted record profits last year thanks to high freight rates at that time due to strong consumer demand combined with pandemic-related congestion at ports. In 2023, however, freight rates have plummeted due to the global economic downturn. To make matters worse for the industry, hundreds of new container ships – which were ordered during the pandemic – have become operational this year.
Plunging freight rates
According to Clerc, the industry has dealt with the new capacity in a disciplined manner, which has so far prevented an even bigger plunge in freight rates. "Time will tell whether that remains the case. We will have to adapt to the new market situation over the next 18 months," he added. Maersk's figures show that the number of containers loaded between April and June fell by 6% compared with the previous year, while the average freight rates were halved.
As a result of these developments, Maersk's revenue in the second quarter of this year was significantly lower than last year: $13 billion in Q2 of 2023, compared with nearly $21.7 billion a year earlier.