Lola Ruiz, Photobox: ''Arranging our own exports to the UK was the best choice''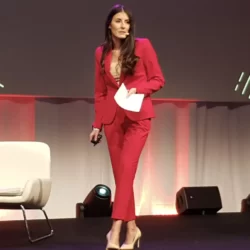 Brexit is forcing companies exporting to the UK to make strategic choices. As a manufacturer, should you outsource customs handling or do it yourself? The company Photobox, a producer of personalized photo products and gifts that was originally founded in the UK, decided to handle things itself – and that choice has worked out well.
By Martijn Lofvers
"The messy Brexit meant that no customs tariffs had been set," explained Lola Ruiz, Group Shipping Project Manager at Photobox, during the international retail event called Deliver held in Zaandam, the Netherlands, in early October. "On top of that, VAT changed too."
Photobox works with 10 to 15 factories – some owned by the company itself and others by partners – where it manufactures personalized gift products in response to customers' online orders. Ruiz: "We can't avoid cross-border transport in Europe. All our products are shipped to our central hub at Sartrouville, near Paris, to create sufficient transport volumes to our customers throughout Europe."
Outsourcing or DIY approach
The terms of delivery to consumers were key when Photobox was deciding whether to outsource customs clearance or handle things itself. "When it comes to cross-border e-commerce, the Incoterms are crucial," said Ruiz. "Does the supplier pay the import duty prior to shipment, or does the consumer have to pay it on receipt of the goods?"
"We didn't want our consumers to be surprised by extra charges on receipt," continued Ruiz. "That would ruin the positive vibe of the personalized gift. That's why we decided to handle the customs activities ourselves, so that we retain control of the customer relationship."
Ultimately, the DIY approach to customs turned out to be the most cost-effective solution too, according to Ruiz: "Some carriers said they would charge between five and ten pounds sterling per parcel to handle the VAT if we outsourced that to them. Needless to say, that's not financially viable. Additionally, we found that various transport companies weren't ready for electronic data exchange, and so some of them have even stopped shipping to the UK. Plus the Incoterms weren't always clear either, which increased the risk that recipients might get a nasty surprise. So at Photobox we now take care of the cross-border transport ourselves and pay the import duties in advance."
More flexibility
That decision has played a key role in the company's customer service. "Last autumn, trucks heading for Calais got stuck in France because of the COVID-19 lockdowns. To ensure that our British customers would still receive their orders in time for Christmas, we recalled the trucks and shipped the products as airfreight instead. Especially in such uncertain times, our customers in the UK were delighted to receive their gifts after all," stated Ruiz. Handling the customs activities itself has increased Photobox's delivery times by a day, but the company now has more flexibility in terms of shipment methods.
According to Ruiz, the approaching festive peak is expected to pose a challenge due to the transport shortage, especially in the UK. Before the pandemic, Photobox was growing rapidly (at an annual rate of 10% or more) and had 8.5 million customers in Europe – mainly in the UK, France and Germany. During the pandemic, however, the number of orders fell sharply. Consumers weren't allowed to go anywhere during the lockdowns, so they didn't take many photos of moments that they wanted to remember by turning them into Photobox gift products.