Leopard shuts down Mercedes plant for several hours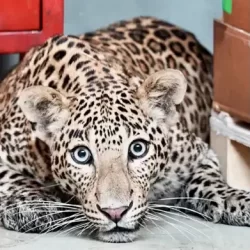 An unusual 'disruption' occurred at a Mercedes-Benz plant in India recently when a stray leopard strolled into the factory in Chakan. The unexpected arrival caused considerable panic and halted production for nearly six hours.
After the leopard – an approximately three-year-old male – was spotted in a production hall, the factory was evacuated without delay. The local Forest Department was alerted and a team from the Wildlife SOS conservation organization subsequently arrived to rescue the animal.
The specialists first secured the area and then tranquilized the leopard from a safe distance. Closer examination revealed that the animal was unharmed and completely healthy so it was placed in a transportation carrier and released back into the wild.
Habitat loss
Wildlife SOS attributes the appearance of the creature in the factory to rapid habitat loss which is forcing leopards to venture into human-dominated areas. On top of this, the Indian state of Maharashtra – where the Mercedes-Benz plant is located – has one of the highest densities of leopards in the world.
Image courtesy: Wildlife SOS