Lack of market transparency causes long tender processes
Apart from a few exceptions, logistics service providers do not make life easy for shippers. They will sometimes make all kinds of promises in order to secure a contract with little regard for how they will deliver on them. The result is a 'murky' market in which shippers have to spend a lot of time on selecting the right logistics partner. And another thing: logistics service providers could definitely take a more proactive approach to shippers.
By Marcel te Lindert
There are several different versions of the story about the Flying Dutchman. One of them features Frisian sailor Barend Fockesz in the lead role. In 1678, he sailed the VOC ship to India in just three months, despite the voyage normally taking six to nine months. Any ship that could travel that fast must have made a deal with the devil, people said: in exchange for the wind in his sails for seven years, his ship would drift on the world's oceans for the rest of eternity. Just like Captain Barend Fockesz in the 17th century, there are logistics service providers around today who sometimes 'sell their souls'. They will do anything to win a shipper's favour, often feeling that they have little choice in the face of fierce competition. They promise the Earth in order to win a contract, and they worry about how they will actually deliver on those promises later.
Socially acceptable
At least, that is the impression one gets when listening to Raimond Visser, global supply chain infrastructure manager at Nutricia Advanced Medical Nutrition, which is part of Danone. "It's very difficult to gain an insight into the operational knowledge and experience of logistics service
providers. They give socially acceptable answers, and their promises are generally very similar. Sometimes it seems as if the only difference is the name at the top of the Powerpoint slides. That's bad news for the market and for their image. Logistics service providers should focus much more on their own strengths," states Visser.
Logistics service providers claiming to be able to do everything creates a lack of market transparency which makes it difficult for shippers to choose the right partner. That problem is exacerbated by the set-up of existing tender processes which often only include the 'hard' aspects, ignoring the 'soft' factors such as employee knowledge, how the warehouse is managed, or the willingness to change if necessary in response to a change in the shipper's situation. "That's why we hold in-depth meetings with service providers and visit their referees – not only those they provide themselves, but also companies which we find within our own network or via social media. They also give us a sense of how the service providers act when things don't go according to plan. After all, service providers are quick to focus on their strong points during meetings, yet it's much more important to know how they react when faced with problems," says Visser.
Complex logistics
Not everyone would go as far as to make such stark claims as Visser about the lack of transparency in the market for logistics service providers, even if it is only because they have since managed to successfully navigate their own way through 'outsourcing land'. One such person is Jack Pool, managing director of Districon Management Consultants. "When we're sitting around the table with a shipper to reduce a long list of logistics service providers to a shortlist, we usually reach agreement fairly quickly – perhaps because we do a lot those kinds of projects, so we're pretty familiar with the market," comments Pool.
Meinderdjan Botman from DSV Solutions suggests that shippers themselves sometimes contribute to the murkiness too. They don't always formulate their
requirements and preferences clearly in tender documents, and the data about order and distribution patterns can sometimes be of very poor quality. "That makes it difficult for logistics service providers to submit a proposal which complies with the request. Furthermore, during the tender
project, shippers have frequently been known to change their scope, adjust their expectations or supply new data," says Botman, speaking from experience.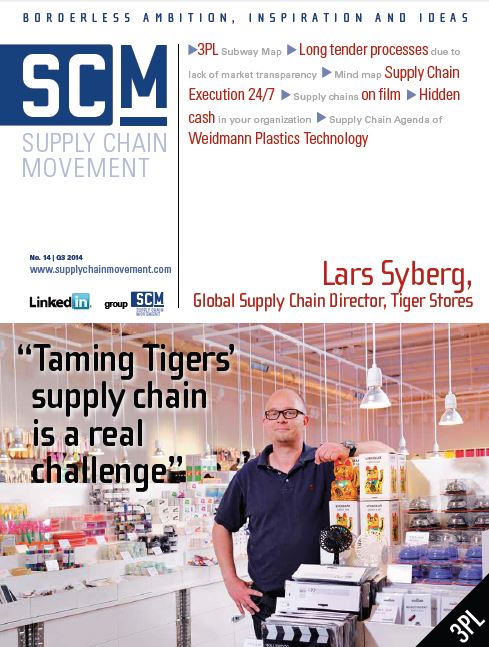 This article was first published in Supply Chain Movement Q3 – 2014
Subscribe on tablet to read the full version>>
or
Subscribe on print to receive the next issue>>