Jeroen Both, Accell: "Lockdown was a unique chance to make supply chains more sustainable"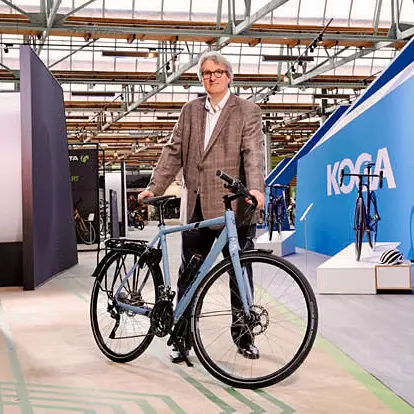 The bicycle market had been growing steadily for years. Then in the spring of 2020, lockdowns in several countries caused sales to stagnate… and just six weeks later, demand exploded. The current under-capacity means that many parts suppliers in Asia will have to build new production sites, preferably closer to their sales markets. "This is the ideal time to make fundamental changes to our supply chain," says Jeroen Both as he provides a look behind the scenes at e-bike market leader Accell. 
Accell Group, headquartered in the Dutch town of Heerenveen, is the manufacturer of a number of well-known bicycle brands including Batavus, Haibike, Ghost, Lapierre, Koga, Raleigh and Sparta as well as cargo bike brands Babboe and Carqon. The company is the European market leader in e-bikes and the number two in bicycle parts and accessories. Besides e-bikes and city bikes, Accell also produces road bikes and mountain bikes (MTBs). Accell invented the modern e-bike (Sparta) in 2004 and the modern e-mountain bike under the Haibike brand in 2010. The brands operated autonomously until a few years ago, when Accell realized that it was missing out on opportunities both marketing-wise and in the supply chain. Since 2015 the focus has been on integration, with Jeroen Both leading this operation on the supply chain side.
How did you get where you are today?
"I've been working in operations and supply chain my whole career. At one point, my wife and I decided we wanted to live and work abroad, so I took a position with British American Tobacco (BAT), a huge company with countless opportunities. I worked in Germany for the first few years, then we moved to Moscow where I set up a supply chain hub for Eastern Europe. That was followed by positions in Singapore and Korea, each time to set up new supply chain operations. … … …
Want to read more?
Curious about the full 6-page covering interview with Jeroen Both? Take a digital subscription and have full access to this interview and more exclusive content.