IT Subway Map by Supply Chain Magazine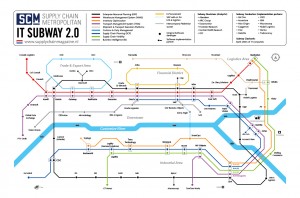 What are the most important developments in the Netherlands when it comes to supply chain software? Look no further. The second edition of Supply Chain Magazine's IT Subway 2.0, clearly maps out all of the key players on the current Dutch supply chain software playing field.
Transport Execution
In comparison to last year's map, there are two new subway lines which IT analysts like Gartner do not yet wish to either name, or give clear positions to. One is Customs software, otherwise known as Customs & Duty Management Systems, which have been around for quite some time. Yet this functionality has become increasingly more important, leading to an increased number of implementations.
One brand new segment on this edition is the line for Shipment & Transport Execution Platforms. This is a new but not yet wholly accepted generic term for solutions that have been developed over the past few years for shippers, to enable them to get a better grip on the number and diversity of transportation companies out there. ShipitSmarter, for example, is a procurement system for transport; Ticontract is a specialised e-sourcing tool for logistics and freight tenders and the management of freight rates and contracts; Transwide encompasses a whole range of products to enable shippers and transporters to communicate with one another about scheduling, exception management and exchange of documentation.
One name change this edition is Inventory Optimization. This line now illustrates quite clearly how, with help from mathematical algorithms and statistical models, inventory optimization can be classified as a specialism when compared to general inventory management, which is often just part of a Warehouse Management System.
Number of buyouts down
In contrast to the period prior to the economic crisis, the number of buyouts is down. The most important takeover this past year has to be that of American i2 Technologies, the last supply chain software specialist on the stock exchange, who was taken over by JDA, supplier of Enterprise Resource Planning  (ERP) systems to the retail sector. The second most important is the acquisition of Minihouse, the Dutch supplier of customs & duty management software, by Kewill, an English player in the field of Warehouse and Transport Management.
One particularly significant change is software giant SAP's decision to reroute and, as of this year, sell add-ons from third party software companies (such as Every Angle and SmartOps). By doing so, SAP has finally admitted that its software does not encompass every functionality imaginable.
One final addition to this edition of the subway map is the inclusion of implementation partners that are allied to specific software suppliers. Large international suppliers use local players for the installation of their software. You'll only find the larger of the Dutch implementation partners on the map.