Investors are increasingly interested in supply chain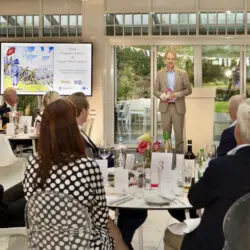 Private equity investors are well aware of the importance of a solid supply chain. This became apparent during the first SCM Private Equity Working Dinner on 21 September. Seated around five tables, investors and supply chain executives discussed the impact of the supply chain on corporate returns. Perhaps unsurprisingly, much of the discussion was dominated by today's high inventory levels.
By Marcel te Lindert 
Commodity prices have risen exponentially in recent years. As a result, companies have also seen sudden and significant increases in the value of their inventory on the balance sheet. So if you're a supply chain director, how do you tell the company owner that the level of stock in the warehouse hasn't actually changed, and that you truly need all that physical stock to fulfil customer promises? One of the supply chain directors present at the dinner decided to go on a 'Finance for Dummies' course to improve his confidence in future discussions with his company's private investors.
Creating problems
This is just one of many examples of the discussions about rising stock levels at the first Private Equity Working Dinner, during which supply chain executives open-heartedly told the investors about their recurring dilemmas. They admitted that the recent supply chain disruptions had triggered them to place orders more frequently, even though they knew deep down that they were only creating problems further down the line. But they felt that they had no other option, because their reputation was at stake if the supply chain failed to deliver.
The solution is to improve supply chain resilience and agility. But how can you do that if you are sourcing from the Far East? One supply chain director revealed that his suppliers in China are begging for orders to keep their production lines busy. Relinquishing will lead to even fuller warehouses, but what's the alternative? If those suppliers have to reduce their production capacity, how quickly will they be able to scale up again when demand improves?
The CSCO role
The Private Equity Working Dinner made at least one thing clear: in recent years, investors have realized that the supply chain plays a crucial role in business performance and are now more willing than ever to enter into dialogue with supply chain executives. Dominique van Wijnen from SCM Executives, who initiated the event together with Supply Chain Media's Martijn Lofvers, underlined this: "We're increasingly being approached directly by private equity investors looking for someone to solve their supply chain problems."
That is a new development, because investors usually only get involved in hiring CEOs or CFOs. "But now, investors themselves increasingly want to be part of appointing a chief supply chain officer (CSCO). They want to fill that position before rolling out the new business strategy," stated Van Wijnen. "At the same time, we're seeing a growing number of candidates who are happy to work in a CSCO role for a private equity investor. Until recently, people were much less keen to do so because private equity investors were perceived as only being interested in financial performance and not the supply chain."
According to Jeroen Both, Managing Director of consulting firm BLMC and an investor in a number of companies, the increased focus on supply chain is understandable. In his view, it is evident that a smooth-running supply chain and strong financial performance go hand in hand. "We're increasingly being asked how the supply chain can optimally contribute to the organization's profitability. And investors definitely don't want the supply chain to stand in the way of the company's growth strategy."
Financial component
Jeroen Both briefly explained to the participating investors and supply chain directors how to translate the business strategy into a supply chain strategy. He advised working from the outside in: "Everything you do revolves around customer value, whether you want to be a product leader or strive for operational excellence or customer intimacy. The supply chain strategy should be an extension of that. When devising that strategy, it's important to calculate the impact on financial performance. I still see a lot of supply chain directors thinking only in volume terms and forgetting about the financial component."
According to Slimstock, a vendor of inventory optimization software, financial figures alone are not enough. The company is regularly asked to perform due diligence studies. "We assess the health of the stock, which also requires us to look at the company's strategy," said Stefan Kooijmans, General Manager. "It's important to know that in order to determine the right inventory strategy. But we see many companies lacking sufficient knowledge about the company strategy, let alone being able to translate it into operational objectives."
Segmentation
Kooijmans emphasized the improbability of finding a single inventory strategy for the entire company: "You should bear in mind that the inventory strategy often varies per product group." He also pointed out that effective stock management requires competent inventory planners. Are they able to segment the product range correctly? And which processes and systems do they use to make their choices? "So if you want to know how healthy your stock is, you have to look not only at the value of the inventory, but also at the underlying picture," he concluded.