Investment in European supply chain start-ups lags behind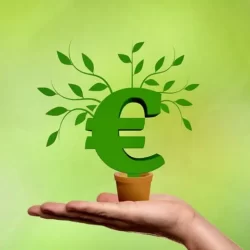 European start-ups receive just 8% of the capital invested in logistics innovation worldwide. This low percentage is in stark contrast with European companies' large share (46%) of the global logistics market. Why is Europe lagging behind when it comes to investment in innovation? Experts from McKinsey and scm-startups.com attempted to explain the statistics during a Supply Chain Media Webinar Wednesday: "There is a low willingness here to engage with start-ups."
By Marcel te Lindert
McKinsey conducted a study of over 500 logistics start-ups that have raised a staggering US$80 billion in capital between them. The consulting firm concluded that logistics start-ups have only really been attracting investors for the past six or seven years. "A decade ago, investors paid little attention to logistics start-ups. The interest started growing cautiously in 2014, and then in 2018 we saw the first major funding rounds, leading to more than $15 billion in investments," said Ludwig Hausmann, a transport and logistics expert and partner at McKinsey.
The breakthrough in 2018 was followed by a lull in 2019. "We would probably have seen an explosive increase in investment in 2020 if it had not been for COVID-19. But even then, despite many investments being delayed for a few months, nearly $13 billion was poured into logistics start-ups in that year. The big explosion eventually came in 2021, when investments increased by 95% to almost €25 billion," Hausmann added. "And this year is shaping up to be another good one – such as Flexport's announcement in early February that it has raised a whopping €935 million in capital."
Europe is the laggard in logistics start-ups
McKinsey's analysis reveals that European start-ups received only 8% of the total capital invested. A sizable 56% went to companies in Asia – particularly China – and 32% to North America. These findings are particularly striking in view of the current dominance of European companies in the global logistics market, accounting for almost half of the revenue. "There is a huge contrast," stated Hausmann. "Europe currently reigns over the logistics market, but is lagging behind when it comes to logistics start-ups."
Hausmann acknowledged that European start-ups in other sectors are not leading the way in terms of attracting investment either: "If we look at the start-up scene as a whole, so including fintech start-ups, we see that 54% of the capital goes to North American start-ups and 28% to Asian ones. European start-ups attract 16% of the capital. But in the sector in which Europe is dominant – i.e. logistics – the share is only half of that. I sincerely hope that this will change in the coming years. And as a sector, we must certainly do our best to ensure that we get a fair share of the European start-up capital."
Hesitant to innovate
When asked about the reasons why Europe is lagging behind, Hausmann said: "It could be because a lot of investment in logistics innovation in Europe is channelled into the major logistics service providers such as DHL, Kuehne + Nagel and DSV, so there's less need for logistics start-ups. But to be honest, I don't really believe that. Start-ups always emerge in places where inefficiencies exist and where customer satisfaction can be improved, and Europe is no exception in that respect."
Like Hausmann, Mathias Bosse of scm-startups.com closely monitors the logistics start-up market. He has even written a book about it: The Supply Chain Management Startups Handbook. As an explanation, he cited European reluctance when it comes to innovation: "In Europe, companies seem hesitant to deploy new, innovative digital solutions and engage with start-ups. This is hindering the development of European start-ups. Europe has lots of companies that are global leaders in logistics, but I wonder whether they are doing enough to maintain their position. In any case, I think they should do more."
Second wave of investments
According to McKinsey, by far the most capital goes to start-ups focused on the last mile: on-demand delivery platforms ($22.6 billion) and new parcel carriers ($12.1 billion). In addition, road transport platforms score highly ($21.3 billion). These are followed at some distance by start-ups in the field of visibility ($6.1 billion) and robotics ($5.4 billion). "The interest in last-mile start-ups is striking because, at $360 billion, the market is relatively small. The transportation market is much larger, at $2,200 billion. The difference is that the size of the last-mile market is increasing much faster thanks to the growth in e-commerce. That's what attracts many investors; they prefer to invest in growth markets," commented Hausmann.
Bosse pointed out that rather than last-mile or transport platforms, a relatively large number of European start-ups are involved in more technology-driven solutions such as supply chain visibility and supply chain planning. "Such solutions are harder for investors to grasp and they have to make more of an effort to understand the potential market. These start-ups were initially a little less visible, but that is changing. The success of last-mile start-ups is sparking investor interest in other supply chain innovations," said Bosse, who described it as a 'second wave'. "We're seeing a rise in investments in more technology-driven and software-driven solutions."
Dark side of the supply chain
The increasing interest in supply chain visibility is also evident from Supply Chain Media's annual overview of European supply chain start-ups, with the list of start-ups in that category growing longer every year. One example is Winddle, winner of the fourth European Supply Chain Start-up Contest. According to Winddle's CEO, Emilia Jevakhoff, today's need for visibility goes beyond predicting the arrival time of a container: "Companies want to know what's in the container. Is that what was intended? And are there any problems with the documentation? They want insight into any problems that might have a negative impact on the supply chain, and they want that insight as quickly as possible."
Another challenge that more start-ups are struggling with, according to Supply Chain Media's Start-up Health Check, is finding new employees, and Winddle is no exception: "We operate upstream in the supply chain, which is perhaps a little less sexy and less appealing than the last mile. It's difficult to explain what we do and to make our work in this part of the supply chain attractive. We often refer to it as the 'dark side' of the supply chain."