inNOWvate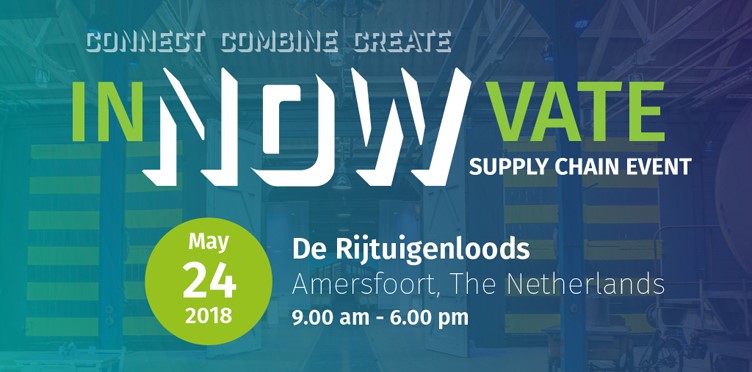 Learn how to turn your own ideas into reality during inNOWvate, the supply chain sector's leading interactive innovation event!
Learn from influential management experts and keynote speakers including Fons Trompenaars en Paul Iske
See the latest technologies and networking opportunities in the Innovation Zone
Hear from supply chain startups as they present their solutions and compete for a €40,000 marketing budget in the first-ever Supply Chain Startup Contest
Join the break-out sessions for updates on how innovative solutions are being applied in practice
Get to know the nominees for the 2018 Supply Chain Professional of the Year Award and hear former winners' tips for how to innovate successfully.
Discover exhibitors' latest supply chain solutions
Exchange knowledge with other supply chain professionals about their innovations and real-life experiences
First European Supply Chain Start-up contest 2018
Ten start-ups with innovative solutions for supply chain have been selected from all over Europe. They will present themselves during inNOWvate supply chain. Five of them will pitch their solution plenary. The most convincing participant in the content wins the first Supply Chain Startup Award Europe and a marketing budget of €40.000,-.
Fons Trompenaars, one of the world's most influential business thinkers and economist. As one of the most popular management consultants on the international conference circuit, he travels the world highlighting the importance of cultural diversity within business in his own light-hearted style. He has published a range of books in the English language, including Riding the Waves of Culture, Understanding Cultural Diversity in Global Business. Read more

Program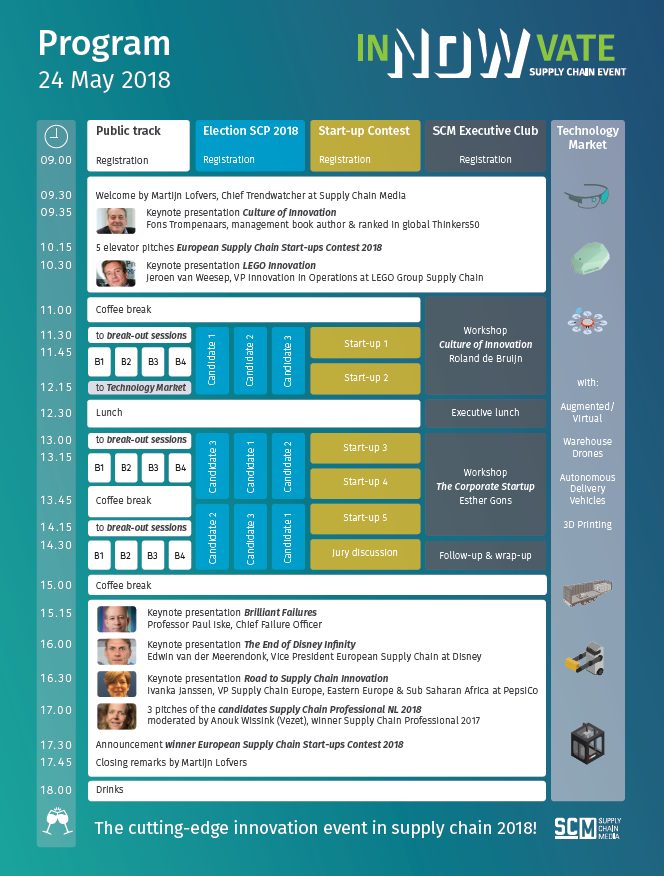 Technology market
View the lastest technologiesin supply chain on the innovation square.
Break-out sessions
Providers will inform participants of innovative sollutions and the use in practice during the break-out sessions.
Panel candidates Supply Chain Professional Election of 2018
The candidates of the Supply Chain Professional Election of 2018 will present themselves during inNOWvate. They will give their vision on supply chain strategy and the role of innovation with an example of an supply chain project within their organisation.
Sponsors
Gold
Silver
Bronze