Ikea implements micro-fulfilment concept to optimize customer experience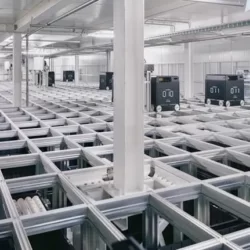 Ikea is exploring a new store concept based on an automated small parts system from Swisslog. The pilot, which is part of the furniture retailer's 'Store of the Future' programme, is being conducted at the Ikea store in Zagreb, Croatia. This marks the first in a series of projects in which Ikea stores worldwide will be using a micro-fulfilment approach to optimize the customer experience.
The new automated system has been implemented by Swisslog, a specialist in robotic and data-driven intralogistics solutions. "The micro-fulfilment solution at Ikea gives customers a choice between click & collect and home delivery," says Jens Schmale, head of EMEA at Swisslog. "The micro-fulfilment approach has countless advantages, including improved speed and efficiency of fulfillment, reduced transportation costs, and shorter delivery times."
AutoStore
Ikea opted for the robotized storage and order processing solution called AutoStore, complete with 6,000 bins, 14 robots and four picking stations. Currently hosting 2,900 items, the system handles the storage and picking of small items weighing no more than 30kg.
Before the implementation of AutoStore, each order picker at Ikea would travel an average of approximately one kilometre to prepare an order, with a productivity rate of 20 order lines per hour. With the new automated and data-driven solution, productivity is expected to increase to up to 170 order lines an hour. This represents a considerable boost to efficiency and a significant return on investment.
Black Line robots
At the store in Croatia, the AutoStore system with Black Line robots is situated on a mezzanine between the retail floor and the warehouse. A QuickMove light conveyor transports the filled shipping units to an automated carton sealing machine, and then the orders are taken to the outbound area.
The small items processed by AutoStore are integrated with the online orders of oversized items which are manually picked from other warehouse areas. The entire solution is managed and optimized by Swisslog SynQ software.