How to get an A for your thesis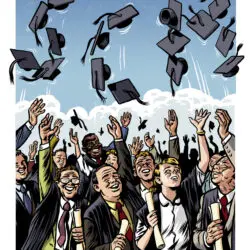 A few years ago Martijn Lofvers gave a presentation about Strategy Mindmapping to an audience of roughly 80 persons at a supply chain conference in Paris. Afterwards about 20 attendees lined up to hand over their business cards because they wanted to receive the presentation.
At the end of the line a woman in her mid-twenties was waiting. "I would like to thank you", she said. "You're welcome", Martijn replied. "No, you don't understand. I was attending your presentation last year and you recommended to students that they should create a mindmap according to the presented framework. So I did. And I got an A for my thesis. So that's why I wanted to thank you personally for this great advice." The most rewarding compliment ever.
Here you find the 1-minute video about Strategy Mindmapping: