How end-to-end supply chain visibility can reduce risks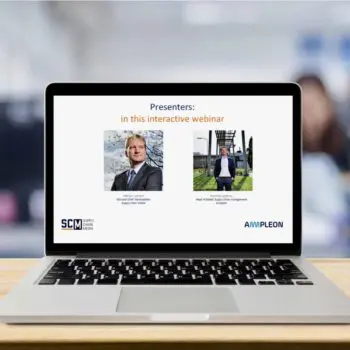 Ampleon has used the Supply Chain Media assessment tool to gain better insight into its focus areas relating to supply chain visibility. That fact emerged during an online discussion of end-to-end supply chain visibility held in Microsoft Teams with Antoine Leclerq, Head of Global Supply Chain Management at Ampleon, as the speaker and Martijn Lofvers, Trendwatcher at Supply Chain Media, as the moderator in late June.
Since social distancing measures continue to make physical business appointments difficult, Supply Chain Media has been regularly organizing online discussions for the members of the SCM Professionals Club in the Netherlands. In the most recent discussion, Leclerq – who was named Supply Chain Professional 2019 – explained how his company is coping with supply chain uncertainty and how increased visibility is helping the company to reduce the risks.
"It's very difficult to forecast demand in our market," he said. "We're specialized in RF technology; our main products are signal amplifiers for mobile phone masts. It's a hugely volatile market. Projects are constantly being brought forward or pushed back. If President Trump tweets that Huawei is being banned, that suddenly opens doors for Nokia and Ericsson. Forecasting is even more difficult because of the high degree of innovation and the extremely short product life cycles. 40% of next year's revenue will be generated by products that we don't even know about yet."
To deal with all this uncertainty as effectively as possible, Ampleon works very closely with its European customers. They share details about things like capacity planning and production planning, and R&D is an area of intense collaboration. It would be unthinkable to have such an intimate relationship with Chinese suppliers. Upstream, Ampleon has good visibility of its Tier 1 and Tier 2 suppliers plus any Tier 3 suppliers of raw materials that must comply with very strict quality standards.
Data lake
Ampleon has plans to build a data lake and do more with analytics. One of the areas where Leclerq would like to gain more visibility is the buffer strategy. "Whereabouts in the chain do we need to hold stock – and how much – in order to maximally reduce the risks? We work with more and more subcontractors, which is making that game increasingly complex. If you can predict that more accurately, you can make inventory savings and reduce the risks at the same time."
The online discussion moved on to which software is most suitable for such activities. Should you bring everything together in a single environment, like Ampleon does in SAP IBP? Should you make a conscious decision for a varied IT landscape and combine the data from different systems in a data lake, which you then analyse using your own algorithms? Or should you use a Connected Planning tool from software vendor Anaplan, which integrally leverages data from various sources? It became apparent during the discussion that it largely depends on the company's own situation.
Several of the participants in the discussion advised their peers not to wait until the IT department makes a recommendation, but to take the initiative themselves. "As a supply chain specialist, you need a pretty good understanding of IT; you have to explore the options yourself and make your own decisions," said one of the participants. The discussion also illustrated that, although end-to-end visibility might be a key desire for all companies, there are differences between markets. For example, better demand forecasting might result in more profitability in one market, whereas upstream visibility will create the most added value in another.
Practical end-to-end supply chain visibility assessment
Supply Chain Media has developed a practical end-to-end supply chain visibility self-assessment tool which is available online. The tool helps companies to gain a clearer view of their supply chain and identify blind spots. The results also make it easier for supply chain professionals to exchange thoughts and ideas with one another about how to tackle those blind spots. Besides that, members of the SCM Professionals Club have access to a digital archive in Microsoft Teams, where they can find all kinds of articles and reports about visibility in addition to the assessment tool itself. Last but not least, members can use the digital platform to ask each other questions directly and share knowledge.