Harman's Henri Colijn winner election Supply Chain Professional 2020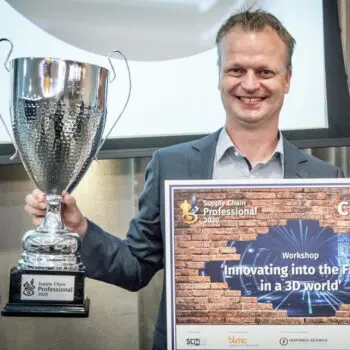 Henri Colijn has become the new Dutch ambassador for supply chain management. The Senior Director Operations in Harman International's EMEA Lifestyle Audio Division was named as winner of the Supply Chain Professional of the Year 2020 award on Tuesday 25 August. He overcame strong competition from Willemien Broeders from Perfetti Van Melle and Aron Waas from Boon Edam to seize the title.
Talking about the reason behind the Supply Chain Professional Award just before the winner was announced, Jack van der Veen, professor of supply chain management at Nyenrode Business Universiteit and head judge, commented: "Why do we choose a winning supply chain professional each year? Because we need people who are involved in the evolution of the supply chain discipline, who develop their own vision and hence can inspire other people – not only within our own discipline but also all kinds of other professionals. The time has come for supply chain managers to step up to the plate; we now play a fully-fledged role within companies and are expected to take the lead. We must demonstrate leadership, and that has been one of the key topics today. Whoever wins, the other two were also very good candidates who had a strong chance of winning, but we can only choose one winner."
The expert jury focused primarily on three aspects – strategy, leadership and processes – and concluded: "Henri Colijn has a broad overview of all supply chain-related aspects. He knows his stuff, both in terms of strategy, processes, mindset and behaviour. He is able to respond to situations and get the rest of the organization on board, and needless to say this is related to the developments around COVID-19. Henri is adept at connecting the business with the supply chain. Additionally he is a real team player, a clear communicator, calm and stable, and he provides structure."
Fivefold increase in revenue
Henri Colijn was completely overwhelmed to be named as the winner. "I'm tremendously proud. This is terrific recognition of the performance of the whole team. Over the past five years the revenue has increased fivefold, which has presented us with some huge challenges. There has been immense pressure on the supply chain and we have had to work hard for the past five years, but the supply chain has managed to keep pace with the growth. I may be the one who has stood on this stage and done the assessment here, but this award is for the whole team too. It's thanks to them that I'm standing here today. Due to COVID-19 it might be a little difficult to celebrate this award win together, but I'm sure we'll think of something."
Besides the official trophy and a smaller replica to keep, the first prize includes an international workshop for the whole team on 'Innovating into the Future' by Sean Culey (author of the book called Transition Point) and Supply Chain Media's Martijn Lofvers. The workshop will be held in a virtual 3D environment in which each participant has their own avatar.
Thirteenth edition of the Supply Chain Professional award
Since 2008, the Supply Chain Professional award has been organized annually by Supply Chain Media in conjunction with Inspired-Search – for the recruitment of candidates – and BLMC for the assessment of the finalists. This year, the final was held for the first time as a hybrid event at Van der Valk in Utrecht. Along with the Supply Chain Trend Event, the awards ceremony could be attended either in person or online. Supply chain colleagues and jury members grilled the finalists on leadership, strategy and processes.
Expert jury
The six-strong jury was made up of Jack van der Veen (Professor of Supply Chain Management at Nyenrode Business Universiteit), Lidewey van der Sluis (Professor of Talent Management at Nyenrode Business Universiteit), Edwin Tuyn (Managing Director of Inspired-Search), Marcel van Rossum (Senior Director Supply Chain Strategy & Deployment at Johnson & Johnson), Michel van Buren (Director of BLMC) and Antoine Leclercq (Head of Global Supply Chain Management at Ampleon and Supply Chain Professional 2019).
Previous winners
In 2020, Supply Chain Media organized the Supply Chain Professional of the Year award for the 13th successive year. List of previous winners:
• 2019: Antoine Leclercq, Head of Global Supply Chain Management, Ampleon
• 2018: Joost Donkers, Director End2End Supply Chain Ingredients, FrieslandCampina
• 2017: Anouk Wissink, Operational Director, Koninklijke Vezet
• 2015: Edgar Beers, Director of Global Supply Chain & CPO, Vanderlande Industries
• 2014: Jeroen van Weesep, Vice President of Supply and Inventory Management Europe/Asia, Lego
• 2013: Allison Thomas, Supply Chain Director Benelux, PepsiCo Netherlands
• 2012: Erik Botter, Director of Purchasing & Logistics, Pearle Benelux
• 2011: Frank Schaapveld, Senior Director of Supply Chain EMEA, Medtronic
• 2010: Erik Bouwer, Director of Supply Chain Management North-West Europe, Perfetti Van Melle
• 2009: John van Dongen, Director of Demand Flow Planning & Scheduling Europe, Electrolux
• 2008: Edwin van der Meerendonk, Vice President of European Operations, Walt Disney