Growing number of uses for blockchain in supply chain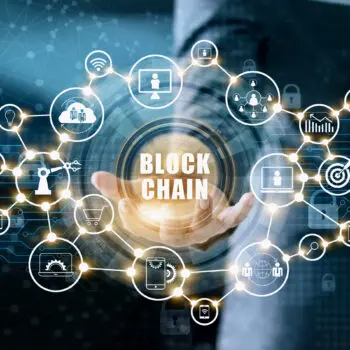 The use of blockchain in supply chain has advanced beyond the pilot phase. Scanning a barcode or tag linked to blockchain is now a reality, whether for monitoring returnable packaging or tracking beef from Mongolia, as became apparent during a recent webinar hosted by Supply Chain Media. However, return on investment (ROI) often remains a hurdle to broad rollout of the internet-linked technology in support of Industry 4.0.
By Marco van der Hoeven
"Economic efficiency is still the deciding factor in the use of Industry 4.0," stated Christina Reich, Senior Management Consultant at German consulting firm MHP and project leader of the recent Industry 4.0 Barometer. For this international study, MHP – part of the Porsche Group – surveyed industry decision-makers in Germany, Austria, Switzerland, the UK, the US and China.
"Investments in more holistic automation solutions often fail to materialize because return on investment is still the most important factor for companies. They prefer to opt for standalone solutions, which on balance end up delivering less value than an integrated solution," she said.
According to Reich, one of the main challenges companies face is the shortage of qualified employees, as new solutions require specific knowledge and skills. "However, visible progress is being made in increasing supply chain transparency by successfully implementing Industry 4.0 technologies such as RFID and Bluetooth." These enable companies to track the location of products and production resources, for example, as well as additional data such as their temperature. This allows them to track the origin of components and where they have been produced in the supply chain, which then makes it possible to calculate the total carbon footprint of each vehicle separately, for instance.
Employee-related security risks
MHP's research also shows that considerable progress is being made in the field of cybersecurity. Reich: "And that's necessary, because the rising number of attacks on the cyber infrastructure means that the risk of cybercrime is growing for companies. Incidentally, the biggest security risks are usually posed by employees themselves, such as when they inadvertently open phishing mails."
Tamir Basanjav, CEO and founder of blockchain start-up Obortech, claims that the technology itself rarely has security issues; it's the users who are the Achilles' heel. "That's why companies should integrate cybersecurity into all their operations and provide their employees with the right training."
On the automation front, Reich remarked that there had been a marked increase in the use of autonomous robots in manufacturing and warehouses over the past five years. "Moreover, companies now have opportunities to analyse data during manufacturing processes, leading to partially or even fully automated decision-making," she stated. "But only half of all processes have been automated, and companies tend to overestimate their level of automation and digitization due to the many stand-alone solutions they use." In other words, there is still a long way to go until organizations actually benefit from fully integrated Industry 4.0 solutions.
Trough of disillusionment
Analyst firm Gartner introduced blockchain for supply chain in its annual Hype Cycle, a visualization of the life cycle of various technologies, back in 2017. According to Gartner, blockchain in supply chain has just past the peak of the hype and is now on its way down to what is known as the 'trough of disillusionment'.
Martijn Lofvers, Chief Trendwatcher at Supply Chain Media and moderator of the webinar, clearly disagreed with Gartner's view: "The Port of Antwerp has been using blockchain from vendor T-Mining very successfully for years to share passwords for container terminal access in a watertight way rather than in fraud-prone emails. And in our annual Maturity Matrix of supply chain start-ups and scale-ups, we've had a separate category for blockchain, including multiple practical applications, for a couple of years now."
Blockchain is already productive
One of those scale-ups is RTI Blockchain, one of the three finalists for this year's European Supply Chain Scale-ups award. Milou Klooster, CEO and founder of RTI Blockchain, claims to already offer practical blockchain-based supply chain applications for managing returnable transport items (RTIs) such as pallets and crates. "On average, a company suffers €4 million in losses due to problems with pallet visibility in the supply chain," Klooster explained. "This is due to the lack of standardization and all kinds of self-imposed solutions. The traditional systems and individual solutions don't succeed in solving the problems associated with registering RTI movements, hence our blockchain solution."
The amount of paperwork involved in handling pallets and other returnable packaging never ceases to amaze Klooster: "Many companies still use separate Excel sheets per supplier, per customer and per RTI type, which creates a lack of accurate information and operational inefficiencies. Moreover, transport companies often have to scan hundreds of packaging slips per day!" According to her, digitizing this process not only generates cost savings, but also frees up time for employees to spend on tasks that actually add value.
Improving supply chain transparency can be taken a step further by using 'tokens': digital loyalty points for discounts. "By using tokens to persuade shoppers to scan the QR codes on Mongolian beef, for example, in the store, the cattle farmer in Mongolia gains immediate insight into sales," explained Basanjav. Obortech's blockchain solution requires a sizable investment, but companies can pay for it on a 'pay-as-you-go' basis. The application, which is similar to a Facebook timeline, shows the status of a shipment – including location, temperature, humidity and security – based on milestones. Clearly, it's already possible to use the Internet of Things (IoT) – whether linked to blockchain or not – to create a connected supply chain… and the investment doesn't necessarily have to be high.