Greg Javor: "Our mission is to inspire and nurture the human spirit"
Like the sea-faring coffee traders who inspired its logo it's not all been plain sailing at Starbucks. In 2008, when Howard Schultz (Starbucks chairman, president and chief executive officer) returned to the ship, orders had been failing, money was leaking out and internal communication was poor. Greg Javor, along with a number of other new executives, was drafted in to help re-set the course. After four years in global logistics he was posted to Amsterdam in 2012 as senior vice president, Supply Chain Operations, EMEA. His task was to transform and integrate the EMEA supply chain into the overall business including building a new team, redesigning the supply chain and improving service levels. He also feels it his mission to nurture and develop talent from within. Javor has just returned to headquarters in the US with additional responsibility for China & Asia Pacific and the CPG channel along with EMEA. He is tasked with integrating the supply chains to implement the future growth strategy.
How did previous experience land you in the supply chain?
"At university, I started a major in marketing but the class was so big I thought my chances of getting a job would be slim. I added a second major in transportation and logistics and, for a full armoury, added a third in production operations and management. My first job was a warehouse supervisor trainee for a public warehouse (nowadays a 3PL), in Baltimore, Maryland. I progressed and spent five years in operations and five years in sales and general management. 3PL is about managing peaks and valleys for many different customers and a wide variety of businesses, from tyres to medical supplies. You need to know each company strategy in order to integrate services and develop relationships. These skills are very transferable. In 1987 I took a job at regional discount retailer, Venture Stores working for Michael Duke, who went on to become CEO of Wal-Mart. He became my first mentor. I went back into operations and learned the fast pace of supply chain and logistics, deploying lots of automation and technology
to flow merchandise in volume with speed, efficiency, and accuracy."
 What did you learn from Michael Duke while working for the discount retailer?
"We talk about three things in priority order: 1. People 2. Service 3. Costs There were times when we never got to service or costs in our discussions. This taught me the importance of putting employees first and we use this today at Starbucks – everything we do starts and stops with our Partners (employees). My philosophy is that over the long term, the only wealth a company has is its "human talent". This is the difference between companies surviving and prospering over the long-term. We have a saying our leaders use quite often- "stay humble and stay hungry"! Today my job as a supply chain officer is to create strategies that we can execute to enable fast paced growth."
Before you joined Starbucks you worked for ten years at ICI, coming in as an outsider to help turn around the North American business. Was research in operations useful at this point?
"Absolutely! There's no substitute for knowing the details of your business. These days it's mostly done with linear programming and advanced analytics, but back then we did it with excel spread sheets. We used centroid analysis on transportation data to fully understand the detail inputs to make key decisions: How many facilities, where should they be to minimise costs, bearing in mind the service parameters that needed to be met. For example, we had a regional distribution facility in Reading Pennsylvania. With our centroid analysis the initial answer was to move it 90 miles north towards New York to optimise total costs. But the one-off cost of change meant it was better to address longstanding labour issues and improve productivity through the right leadership and approach. It led to us constructing a new facility near the existing site in an economic opportunity zone where real estate taxes were abated for 11 years. It is similar to what we do at Starbucks today. Even with the initial solutions, you stil
l have to consider the existing network and assess if the one-off cost of change is affordable."
In 2008 you were invited to join Starbucks to help turn it back around. What was required?
"I didn't know many aspects of what I was getting into, but with any new opportunity you have to fit in before you can contribute. This is especially true at Starbucks' which grew and continues to grow with people and passion for the brand. Our mission and values hasn't changed; however, you won't find our leadership model written or defined anywhere. This is the fun and challenge of being a leader with one of the world's most admired brands. Firstly we had to get people's attention. We did this is various ways and sometimes it was quite gut wrenching. We had many Partners (employees) at HQ who didn't possess the right skills and knowledge. During the fast growth and expansion days nobody asked many questions and it's easy to lose touch with reality. In 2008, there were seismic shifts in the economy, in digital, and in retail comp sales. Starbucks was not immune to closing underperforming stores, eliminating jobs, and focusing on survival by getting the basics right in our retail business.
Secondly we had to stop the bleeding. There was money leaking out everywhere and we had to identify where it was leaking from. We discovered we were using six different 3PLs, each responsible for some part of the inbound international ocean transportation (mostly coffee and merchandise from Asia). There was no end-to-end accountability and visibility of inbound shipments. We started to develop "value chains"; individually focused supply chains for coffee, dairy, food, store equipment & fixtures, etc. We are still one global supply chain; however, these value chains allow us to be nimble and flexible. With this set-up we can navigate and run a complex, global supply chain across many dimensions (multiple channels, store formats, billion dollar brands, and acquisitions) by thinking locally, operating regionally, and leveraging globally.
Thirdly we had to create small wins to rally our Partners around in many aspects of our business. In the logistics area we had to sort out the last mile delivery to stores. It's the last "10 feet" of our supply chain and where we have the highest impact and exposure to our brand's success. It's what really sets Starbucks apart. Our mission in the supply chain hasn't changed during my career in supply chains- get goods to the final destination (on-time, in full, assembled accurately and in the right merchandise condition) and provide information that completely answers questions in a manner that builds confidence. When I arrived at Starbuck's, less than three out of ten orders were getting to the final destination correctly. Today, it's over nine out of ten orders and this builds confidence."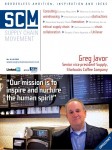 Read the full article in Supply Chain Movement 16>>