Forecasting noise disturbs the S&OP process
Forecasting is a challenge for many companies. The accuracy leaves a lot to be desired, resulting in interference or 'noise' in the communication between the Sales and Operations Planning departments. A clearly defined process, committed sales people, collaboration with customers and timely scheduling of activities all contribute to a better forecast. Furthermore, it is important to evaluate regularly and learn from mistakes.
By Marcel te Lindert
Lower stocks, happier customers and fewer supply chain disruptions – those are all important benefits of effective sales & operations planning (S&OP), according to research conducted by consulting firm BearingPoint among a primarily European target group. Right at the top of the list is forecast accuracy, which ranks as much as 4.6 on a scale of 1 to 5.
It is notable that the companies surveyed regard forecast accuracy as a positive outcome of S&OP, since the same applies – and perhaps even more so – in reverse: high forecast accuracy is a prerequisite for a successful S&OP process. "A good forecast is the basis for all plans," states Jaap Verhoeven from PwC Consulting. "Furthermore, a 10 percent improvement in forecast accuracy will quickly reduce the required safety stock by around 30 percent. In other words: a slight decline in forecast accuracy results in an exponential increase in inventory."
On right track
Consulting firm Oliver Wight also emphasises the importance of high forecast accuracy. The firm was one of the pioneers of S&OP and has developed the approach into a process that looks 24 months ahead for the entire company leading to an integral plan for all disciplines. "The forecast reveals whether you're on the right track to achieve your strategic objectives," says consultant Birgit Breitschuh. She actually prefers to call it 'demand planning' rather than 'forecasting'. "Demand planning also includes details of what Sales and Marketing are doing to influence demand. For me, the term 'forecasting' implies too much of an element of chance, like a prediction which may or may not come true."
Forecast accuracy is extremely important for drinks giant Diageo, whose new corporate strategy, called 'Route to Consumer', revolves around predictability. "We want to increase the predictability companywide. Greater predictability results in better decisions, better product availability and hence better growth," says Ivanka Janssen, Director Global Route to Consumer.
At the moment, the forecast is largely prepared by local sales managers and then translated into a demand plan. The forecastaccuracy hovers at around 70 percent, much to the dissatisfaction of Janssen who is striving for a score of between 75and 80 percent. One important method of improving the forecast is to calculatea statistical forecast based primarily on historical data. The statistical forecast is then fine-tuned by the sales managers based on their knowledge of the market.
This is treated as a serious exercise; anyone who dares to deviate from the statistical forecast by more than 10 percent better have a very good explanation for doing so. "We're currently involved in a pilot in which we generate a statistical forecast centrally and then forward it to a number of regions. Expectations are very high. The shadow project that has been running for the past couple of months has revealed as much as a 20 percent difference with the existing forecast, in the statistical forecast's favour," says Janssen.
Struggle
Many companies struggle to forecast demand. It seems that companies with a forecast accuracy of 80 percent consider themselves fortunate. However, this still means a 20 percent gap between the actual level of demand and the forecast. That's a big difference in view of the fact that the forecast forms the basis for operational planning and for the activities necessary to achieve the intended level of  financial performance.
… …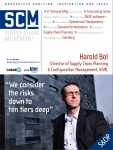 Read the full article in Supply Chain Movement 17 | Q2 – 2015