Fairphone's industry influence continues to grow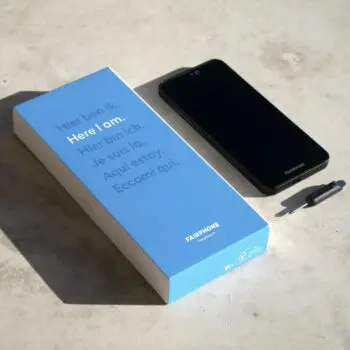 Fairphone, a Dutch producer of ethical smartphones, continues to increase its influence on the electronics industry. The company achieved an 87% increase in sales in 2020 and became profitable for the first time, according to Fairphone's Impact Report 2020. By reaching this milestone, the manufacturer intensifies the pressure on other industry players to raise the bar on sustainability and ethical production.
The company publishes its Impact Report annually to measure its progress in producing the fairest and most environmentally friendly smartphones, and to stimulate the industry to act more responsibly. According to the report, Fairphone sold nearly 95,000 phones in 2020 (besides accessories, modules and spare parts) compared to almost 59,000 in 2019, representing a sales increase of 76%.
One goal was to reduce e-waste by offsetting at least 14% of the Fairphones sold in 2020 by recovering old devices through the take-back programme in the EU. That goal was not only met, but also exceeded; the company managed to offset 18% of all Fairphones sold. The goal for 2021 is 45%, including e-waste from outside the EU.
Fairer sourcing of focus materials
Fairphone also managed to sustainably source approximately 56% of its eight 'focus materials' in 2020, compared with 25% in 2018 and 32% in 2019. The focus is on these eight materials because they offer the electronics industry the greatest potential to create a positive impact. As of this year, Fairphone has set itself a new challenge: to integrate 70% of 14 fair materials by 2023.
Furthermore, the Impact Report shows that more and more individuals are benefiting from Fairphone's social, environmental and/or economic interventions in mines and factories. The number of people benefiting has increased from 5,296 in 2018 and 7,839 in 2019 to 10,717 in 2020.
Additionally, Fairphone is having an ever-greater impact within the electronics industry as its influence grows each year. While influence is difficult to quantify, Fairphone measures its impact on the industry by awarding points for all the companies that follow Fairphone's initiatives based on their size, influence and market value. In 2020, Fairphone achieved 31 'influence points' thanks to its collaborative partnerships with companies such as Glencore, Tesla and /e/OS. This marks a significant rise over the past two years (from ten points in 2018 and 13 points in 2019).
Profitability
"Our sales figures have steadily increased each year and in 2020 we made a profit for the first time since 2014," states Eva Gouwens, CEO of Fairphone. "This is an important milestone for us and we want to sustain this upward financial trend. By building a viable market for ethical consumer electronics, we want to inspire the whole industry to act more responsibly."
According to Gouwens, 2020 was also the year in which Fairphone demonstrated the scalability of its impact and significantly grew its industry influence. This included the launch of the Fair Cobalt Alliance. "Imagine what a difference we could make in the world if the biggest companies in the technology sector were to shift their supply chains even a fraction towards fair materials or were to scale up even a fraction of our impact programmes. That's why we invite the industry to follow our lead towards fairer sourcing and participate in our impact programmes to help scale up the ethical supply chain."