Ever Given to be released soon following agreement on damages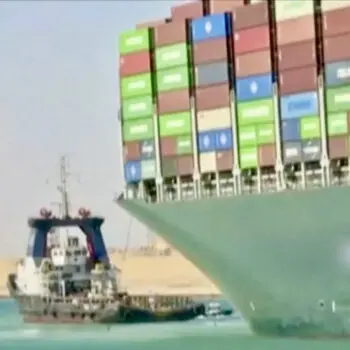 The Japanese owners of the Ever Given have reached a preliminary compensation agreement with the Suez Canal Authority (SCA) according to Stann Marine, the law firm representing the owners. The 400m-long container ship blocked the Suez Canal for almost a week in March on its way to Rotterdam. It has been held in the Great Bitter Lake further along the canal but it will now soon be allowed to leave.
This marks the end of a lengthy legal battle between the Egyptian authorities and the ship's owners, Shoei Kisen Kaisha, over the amount of compensation to be paid. SCA initially demanded a sum of USD 900 million, but this was rejected by the owners and their insurers as being much too high.
Because the parties could not agree on a settlement, SCA proceeded to seize the Ever Given. A subsequent demand of USD 550 million was likewise rejected by the owners and insurers, who countered with an offer of USD 150 million. The final agreed amount has not been disclosed.
General Average
This provisional agreement is good news for the owners of the cargo aboard the Ever Given, which is believed to be carrying over 10,000 containers. However, it is not yet clear when the cargo will actually arrive. This is because Shoei Kisen Kaisha is claiming it is a 'General Average' act, which means that the costs incurred for the salvage of the vessel and its cargo must be jointly borne. The amount to be paid will depend on the total salvage costs and the value of the cargo.
Owners will not gain access to their cargo until they have paid the amount due or their insurers provide security. However, since many companies are not insured, freight forwarders fear that some of them will abandon their cargo if the costs are too high.
Widening of the Suez Canal
Incidentally, SCA reports that the Suez Canal is being widened in two places, including the part of the waterway where the Ever Given got stuck. The canal will be made 40 metres wider and 2.4 metres deeper over a length of 30 kilometres.