European road transport capacity suffers sharp decline combined with rising prices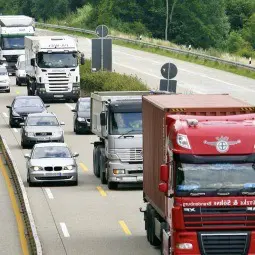 Road transport capacity fell sharply by 16.4% from November to December 2020, taking the European spot market availability index to 85.9 points. There was also significantly less capacity available on the market than a year before; the capacity index dropped by 16% compared to December 2019. Although transport prices increased by 3.9% between November and December 2020, they still remained 2.7% down on December 2019.
These latest statistics come from an update to the Transport Market Monitor (TMM) by freight exchange platform Transporeon and consultancy Tim Consult, based on data up to and including 7 January 2021.
In particular the corridor between France and the UK, which is feeling the effects of Brexit, has seen rising prices due to the significant decrease in road transport capacity, which reached a two-year low in December at 58.8 index points. This corresponds to a huge drop of 39.4% compared to the previous month. Prices rose sharply over the same period (by 34.8%), peaking at the two-year high of 154.3 index points. Compared to December 2019, transport capacity decreased by 22.1% while prices shot up by 51%.
Both transport capacity and prices for goods shipped from Germany to the UK showed similar trends. Between November and December 2020, transport capacity fell by 29.7% to 85.3 index points – another two-year low. At the same time, prices rose sharply by 41.2% to 153.9 index points, representing another two-year high.
Industry-specific trends
In the European automotive industry, road transport capacity fell by 17.9% from November to December 2020, hitting a two-year low at 72.3 index points. Prices have been rising since May 2020 and peaked at 105.6 index points in December, marking a 1.8% increase from the previous month.
In the chemicals and life sciences sector, the road transport capacity index fell sharply by 14.6% to 96.2 points in December 2020, and in the same month prices in the sector increased by 13.5%.
Transport capacity in the steel industry dropped significantly (by 22.5%) between November and December 2020. This was coupled with a two-year high for prices at 111.2 points. Transport prices have been rising steadily in the steel industry since May 2020, and they increased by 8.7% from November to December 2020 alone.
Impact of Brexit
Oliver Kahrs, Managing Director of Tim Consult, a subsidiary of Transporeon, had predicted that prices would rise and transport capacity would fall towards the end of 2020. "While this may be normal towards the end of the year, it cannot entirely be explained by the Christmas period in December. Transport capacity levels have dropped extraordinarily between the European continent and the UK while prices on this corridor are soaring. Brexit is obviously having an impact. However, in the first quarter of 2021, we expect an overall recovery of transport capacities across Europe," Kahrs said.