European naval shipbuilders join forces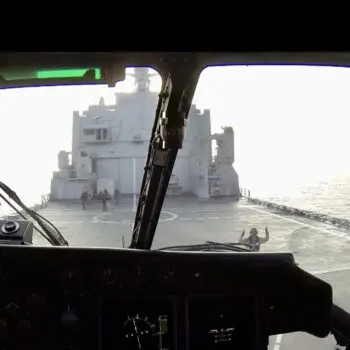 Shipbuilders, research institutes and naval supply chains from eight European countries have joined forces in the SEA Defence project to work together on the development of future naval ships. The key findings and recommendations for innovations from this project were presented at a closing event in the Dutch city of Amsterdam on 23 and 24 May.
Over the past 30 months, a comprehensive, Europe-wide feasibility study has been carried out by many of the key European players in naval technology, design and shipbuilding to see where they can join forces to develop the best next-generation naval platforms. The first phase of this SEA Defence project is now coming to an end, but the cooperation will continue, according to coordinator Peter van Terwisga.
"With war raging in Eastern Europe, it is of the utmost importance that the European naval defence industry works together to ensure the security of the European Union at home and overseas," states Van Terwisga, who is also Director of European Naval R&D Affairs at Damen Naval. "For EU member states, it is essential that their future naval fleets remain at the forefront of technology and are able to defend themselves against all possible threats. Instead of each of us trying to invent the same wheel, it makes much more sense to pool our knowledge and resources for certain topics."
Need for cooperation at European level
The SEA Defence project is based on the firm belief that collaboration at the European level is necessary to safeguard the competitiveness of the European naval industry. The ultimate goal is to be able to jointly design the most advanced ships that can work together closely and communicate with one another safely and efficiently, despite being different from each other.
To achieve this, the project unites 12 partners and seven defence ministries from eight countries. These include seven of Europe's largest naval shipbuilders: Damen Naval (the Netherlands), Fincantieri (Italy), Naval Group (France), Navantia (Spain), SAAB Kockums (Sweden), and Lürssen Defence and Thyssenkrupp Marine Systems (Germany). Other stakeholders include Atlas Elektronik, Blohm+Voss, Cetena, CTN, Naviris, MARIN, OMT, SAES, Sirehna Naval Group, Sea Europe and TNO.
SEA Defence lays foundation for further collaboration
Although some of the project partners are competitors in the traditional sense, SEA Defence has laid the foundation for further naval collaboration in the context of the European Defence Fund (EDF). The partners met during various workshops to discuss topics such as new energy solutions, integrated ship management, the development of uncrewed technology and a fleet system in which ships from different countries can share intelligence, data and more.
Roadmaps for European naval superiority
"Several new EDF projects have already emerged from our collaboration during SEA Defence, and it is incredibly encouraging to know that more projects will follow," continues Van Terwisga. "We have established seven overarching roadmaps that will pave the way to European naval superiority in the current, rapidly changing geopolitical situation. These roadmaps will be used by industry and the member states to establish joint European research, development and innovation activities for the coming years."
SEA Defence is a research and development initiative of SEA Naval, the permanent working group of SEA Europe. SEA Naval represents the industry platform for the implementation of current and future naval defence programmes.