Electrolux wins Supply Chain Management Award 2020 at Exchainge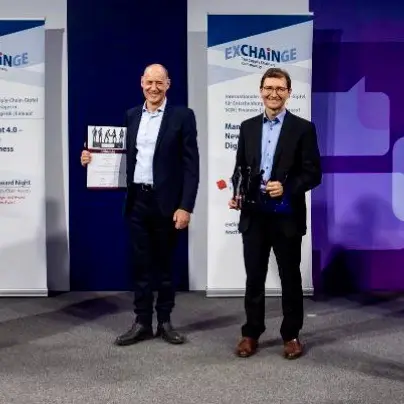 Electrolux's focus on the human aspect as well as automation and integration earned the home appliance manufacturer the Supply Chain Management Award 2020. "The transformation of our supply chain was an important step in our quest to become more customer-centric," said Dr Gregor Dudek, VP SCM of Electrolux Europe.
With its core brands AEG, Electrolux and Zanussi, Electrolux is one of the leading appliance manufacturers worldwide. It operates 15 production facilities and 41 warehouses with 12,000 employees in production and supply chain operations throughout Europe. Electrolux's solution targets the transformation of the supply chain towards greater customer-centricity. This includes optimizations in seven areas to achieve better service, more flexibility and transparency along the entire supply chain while monitoring inventories.
The solutions range from establishing an agile supply chain organization (including a control tower) and intensifying the partnership with R&D to using digital tools in production and stepping up the integration of suppliers into the production process. Other key success factors of the new customer-centric supply chain include excellence in new product launches, inventory management, and strategic approaches customized to each sales channel.
"The transformation of our supply chain was an important step in our quest to become more customer-centric," said Dudek. "It was important for us to look beyond automation and integration to also consider the human side of this transformation. We opened up silos and now work collaboratively in agile, project-specific squads." "Predictive planning in the supply chain is essential despite the many uncertainties – even more so amid the ongoing coronavirus pandemic. Establishing the control tower gives us the transparency we need," adds Nicolas Lefftz, Logistics Director at Electrolux Europe.
On the best path
Electrolux fought off three other finalists – Bayer Pharmaceuticals, BSH Hausgeräte and Takeda Pharmaceuticals International – to win the Supply Chain Management Award 2020. As in past years, the audience's input was considered by the jury – which included supply chain practitioners, prominent academics, consultants and industry journalists – in the final decision.
Presenter Jan Axt (Vice President of Automotive SCM Strategy & Innovation, Continental) stated: "Transforming from a traditional supply chain based on production excellence with a push principle toward a customer- and service-driven supply chain model is not easy for any company. Electrolux seems to be on the best path toward mastering this challenge with distinction. At the heart of it all is their focus on organization, employees, agile squads, and other key themes."
Juror Harald Geimer (Partner at PwC Management Consulting), commented: "The Electrolux concept is a tremendous example of what a well-structured, comprehensive supply chain transformation can look like. The company was very sensible about defining extremely challenging areas to target in their efforts. Electrolux also chose to put the human factor front and centre with its concept of agile squads. The aim, after all, is to establish the necessary capacities. In transformations of this nature, the greatest challenge is often the deployment of modern supply chain technology. The overall consistency of the transformation strategy convinced us to honour Electrolux with the Supply Chain Management Award 2020."
Powerful end-to-end supply chain solutions
The Supply Chain Management Award is presented by Strategy&, the global strategy consulting team at PwC, and by the German industry trade journal Logistik Heute. Each year since 2006, the award has honoured outstanding solutions in industrial value chains and the companies that exhibit perseverance or creativity in optimizing their supply chain. The award recognizes powerful end-to-end supply chain solutions and outstanding implementations within individual links in the value chain.
3D parts on demand
For the third consecutive year, the event also included presentation of the Smart Solution Award, which honours particularly innovative concepts that are still in an early stage of implementation but have the potential to fundamentally transform traditional value chains. Schubert Additive Solutions (SAS) was announced as the winner for 2020, for its part-streaming platform Partbox. By enabling electronic design data to be retrieved from a digital warehouse and produced anywhere in the world within seconds, this 3D 'parts on demand' printing solution is set to revolutionize not only parts manufacturing but also supply chains and storage.