eBook: The journey to world-class S&OP and S&OE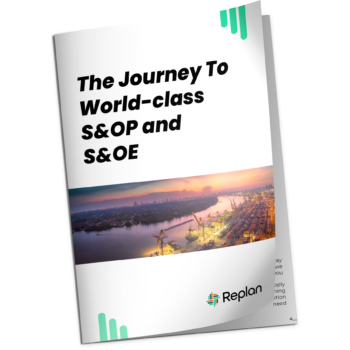 S&OP (Sales & Operations Planning) and S&OE (Sales & Operations Execution) processes help synchronise decision making across all this complexity to infuse agility and resilience. It gives planners and decision-makers a sense of calm and alignment, resulting in greater focus and productivity. And of course, greater customer satisfaction, lower inventory, better asset utilisation and so on (but you knew that already)!
Here at Replan, we're passionate about helping more organisations get to world-class S&OP and S&OE, manage complex plans, improve supply chains and deliver cost-savings worth millions per year, without taking years to achieve it.
Shabbir Ahmed and Johan Van Ingen, client advisors at Replan, have led and navigated such journeys at numerous brands and manufacturers such as British Sugar, Kellogg's, Coca-Cola, Tate & Lyle Sugars, AkzoNobel, Medtronics, Nokia, Dairy Crest and British American Tobacco.
In this eBook, they discuss:
● Main challenges that are necessitating a fresh approach to planning
● Key characteristics of world-class S&OP and S&OE
● Real-world examples of how some companies have embarked on their journey
Download:
eBook: The journey to world-class S&OP and S&OE