DSV acquires Agility's Global Integrated Logistics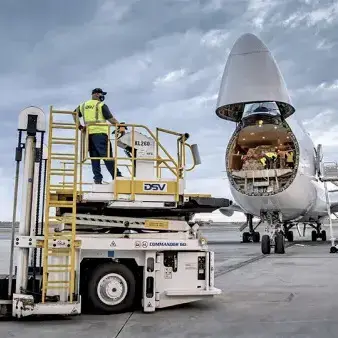 Danish logistics service provider DSV is continuing on its expansion path. Two years after acquiring the Swiss company Panalpina, it has now set its sights on Agility's Global Integrated Logistics (GIL) from Kuwait. As a result, DSV is rapidly becoming one of the largest logistics providers in the world.
This is just one of numerous logistics-related acquisitions, which can be seen as a reflection of the current trend towards economies of scale.
This new acquisition will make DSV (pictured) one of the world's largest logistics service providers with a combined pro forma turnover of approximately US$22 billion and a workforce of more than 70,000 employees. Agility's Global Integrated Logistics is among the world's top third-party logistics (3PL) companies. In 2020, the company generated over US$4 billion in revenue, mainly from air and sea freight, and employed around 17,000 people.
Stronger Air & Sea division DSV
In particular, the acquisition will significantly strengthen DSV's Air & Sea division, taking it to nearly 2.8 million containers (TEUs) and more than 1.6 million tons of air cargo. GIL's contract logistics capabilities will also strengthen DSV's Solutions division by adding GIL's storage capacity of more than 1.4 million square metres, primarily in Asia Pacific and the Middle East. Besides that, GIL will add road freight operations to DSV's network in both Europe and the Middle East, thus increasing DSV's competitiveness across all three divisions.
"GIL and DSV are an excellent fit," states DSV's Group CEO, Jens Bjørn Andersen. "The combination of our two global networks allows us to offer our clients an even higher level of service. GIL's strong market position in Asia Pacific and the Middle East complements DSV's network well and will support our ambitions to create long-term value. We look forward to welcoming GIL's talented employees to DSV." The two companies expect to finalize the acquisition in the third quarter of 2021.
Other acquisitions in logistics sector
There is plenty of other acquisition news in the European logistics sector. In the Netherlands, for example, DPD has announced its acquisition of BK Pharma Logistics and BK Sneltransport. These two logistics experts are specialized in temperature-controlled transport for the pharmaceutical and healthcare industries, which is what makes them so interesting for DPD. The coronavirus crisis drove an unprecedented surge in demand for deliveries of food, pharmaceutical and healthcare products.
Additionally, logistics service provider Kloosterboer recently took over the German company called Columbus Spedition. Located in the fishing port of Bremerhaven, this transport company specializes in logistics services for temperature-controlled food products. Lastly, it has been announced that Cargo-Partner from Austria acquired Germany-based carrier Repalog which has a network for international and intercontinental shipments just last month. Cargo-Partner expects this move to expand its expertise and complete its portfolio of services.