Dr. Oetker to acquire beverage delivery company Flaschenpost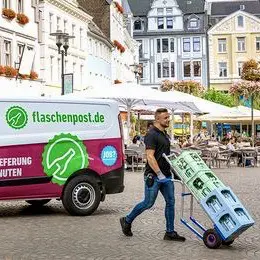 In an aim to become the leading player in Germany's fast-growing beverage delivery market, food and drinks manufacturer Dr. Oetker is set to acquire a scale-up called Flaschenpost. The takeover is reportedly valued at €1 billion.
Founded four years ago in Münster, beverage delivery company Flaschenpost has been benefiting from the strong growth of the German e-commerce sector. Dr. Oetker's own attempt to set up a beverage delivery service – called Durstexpress – was no match for Flaschenpost's success.
Flaschenpost has grown rapidly in recent years following various capital injections from international investors. It has increasingly become a serious competitor for the country's grocery retailers such as Aldi, Lidl, Edeka, Rewe and Metro as it has continuously expanded its product range, which now also includes soup, pasta, cleaning products and face masks. The company currently employs 7,000 people.
Stronger distribution channel Dr. Oetker
The acquisition of Flaschenpost will considerably strengthen Dr. Oetker's direct sales and distribution channel for its own products. Much of Flaschenpost's success is based on guaranteed free delivery within two hours. The delivery service also collects bottles as part of the deposit return system. Flaschenpost delivers to 150 towns and cities in Germany from 23 distribution centres.