DB Schenker injects extra capital into warehouse visualization software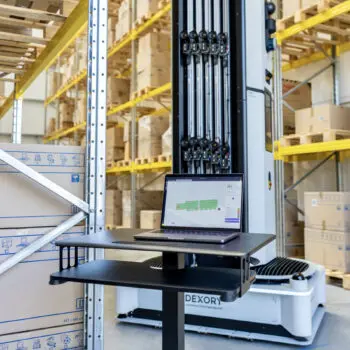 Dexory, a UK-based warehouse visualization software provider, has received additional investment from Schenker Ventures, the corporate investment arm of German logistics service provider DB Schenker. The extra capital injection will allow Dexory to focus more attention on introducing its DexoryView solution across Europe and into the US in the coming months. This follows Dexory's recent $19 million Series A funding announcement in June. The size of the new investment has not been disclosed.
Dexory's solution addresses the urgent need for improved visibility, space utilization and efficiency in warehouses worldwide. Dexory combines autonomous robots, capable of capturing rich image and sensor data from across the warehouse, with powerful analytics and insights. This combination provides comprehensive visibility into individual warehouses of any size, as well as connecting sites in the global supply chain through Dexory's digital platform, DexoryView.
Revolutionary transformation of warehouse operations
For warehouse operators, ensuring flawless 'on-time, every time' order fulfilment is paramount to meeting the expectations of today's consumers. "Technology that operates autonomously, provides real-time insights, possesses intuitive interfaces and seamlessly integrates can lead to a revolutionary transformation in the day-to-day efficiency, productivity and precision of warehouse operations," says Andrei Danescu, CEO and co-founder of Dexory.
"I'm delighted that DB Schenker shares our vision for full visibility across supply chains and has great confidence in our technology, ambitions and growth plans. Their industry expertise will help us grow into new territories and maximize the capabilities of the tech while bringing fantastic value to their sites. A great partnership for both."
Fast and comprehensive warehouse scans
The DexoryView platform performs comprehensive warehouse scans within a few hours – a hundred times faster than human efforts and other inventory collection technologies, according to Dexory. Moreover, DexoryView serves as a digital replica of the physical warehouse, nurturing not only management but also performance optimization. This innovative feature empowers the software to simulate, optimize and forecast future scenarios, freeing up warehouse colleagues to engage in more complex tasks.
"The potential and evident success of Dexory's technology within the global logistics landscape in such a short space of time is impressive. Dexory has engineered a solution that not only boasts seamlessness and user-friendliness, but also provides a remarkable depth and speed of inventory data collection, setting Dexory apart and enabling efficient and accurate insight," comments Paulina Banszerus, Head of Venture Capital at Schenker Ventures.
New standard for the warehouse of the future
Banszerus calls DexoryView's technology visualization impressive and also scalable into the future: "And that's what makes Dexory a great fit to our innovative portfolio." With ongoing conversations about partnering with DB Schenker across various territories, Dexory aims to continue integrating accurate real-time data into its customers' supply chains worldwide, making it the new standard for the warehouse of the future, according to the company.