David Prinselaar, AkzoNobel: "IBP has helped us collaborate in a structured way"
David Prinselaar joined AkzoNobel in 2015 as the company was formulating a vision to transform the supply chain. While enthusiastic to make change, implementing a major transformation was, at that time, not straightforward. A thwarted hostile takeover and a new CEO revised the company strategy. In March 2019, Prinselaar was appointed by CEO Thierry Vanlancker as Chief Supply Chain Officer and member of the executive committee. It's Prinselaar's job to change the mindset and culture and encourage collaboration among colleagues as he drives the integrated supply chain transformation. "Supply chain is the backbone to the success of a company. It can add value to both the top line and the bottom line. Having successfully driven the functional agenda over the last years, the next step is to help the business become more strategic and competitive."
Interview conducted by Martijn Lofvers, Oskar Verkamman, written by Helen Armstrong
AkzoNobel has a long history of mergers and divestments in paints, pharmaceuticals, plastics and chemicals. Headquartered in the Netherlands, it is active in over 150 countries and employs around 34,000 people.
In 2017 it staved off a hostile takeover by US rival PPG. To help regain shareholder confidence it sold off its chemical division leaving two remaining divisions, decorative paints and performance coatings, and accelerated a rigorous transformation of its supply chains. Separate supply chains have been rolled into one to create manufacturing and regional synergies, that will improve service delivery and increase profitability. At the same time high performance paints and coatings that cool buildings, capture solar energy, improve aerodynamics and purify air, add value but call for greater agility in the supply chain.
The transformation has resulted in significant job losses and changes in job responsibilities, especially in middle management. This disruption has not always been easy to swallow especially in a company whose history can be traced back more than 200 years.
Mr. David Prinselaar, how did you end up in your current role?
"Before we start, I would like to share my thoughts on the current biggest global challenge we all face as human-beings, the Corona virus. It is having an impact on our lives, our ways of working and on our perspective for the future, with many uncertainties and unknowns. It is obviously an amazing supply chain challenge, but ahead of this challenge, we need to keep our priorities clear – which starts by caring for the health of our families, employees and loved ones.
Returning to your question, I moved around a lot as a youngster but ended up studying electro-mechanical engineering, specializing in mechatronics, in Louvain-La-Neuve, Belgium. After completing my five-year degree my aim was to travel abroad but, rather than backpacking, I wanted to live and work in a country. With my then future wife we decided to go to Malaysia. I was offered a job as project manager by a Belgian company that was installing pneumatic systems both in highway tool plazas and hospitals.
It was a great two years' experience but I then decided I should do something more traditional. I joined a large management consulting company in London knowing it would bring me in contact with many different companies. The company already had about 1000 consultants and was growing at a rate of 20% annually. Opportunities quickly came along and I moved up from junior consultant to senior consultant, project manager to senior analyst. It was a very valuable five years with much opportunity for strategic discussion typically with executive committee members who ask good questions about bottom line, speed of return etc.
It was very fast and intensive, working 80 hours a week. I loved it, but then my first daughter was born and that way of working was not compatible with family life.
I resigned without another job to go to but within a month I had a position at a consumer goods company, Reckitt Benckiser. It was an agile, lean, focused company that gave me the possibility to grow quickly. I worked there for more than 10 years including periods in Spain, Germany, the USA, Brazil and finally in the Netherlands, where I was responsible for the operational strategy for Europe and North America.
It was an amazing learning experience with great assignments, but, after more than 10 years of continuous family moves across continents, it was time for me to move on to a new challenge. I looked at different companies but in the end I was keen to join AkzoNobel because as well as having a supply chain function in the Netherlands it was also on the verge of a transformation. My new bosses Konrad Keizer and David Allen were both very motivated to transform the supply chain." … … …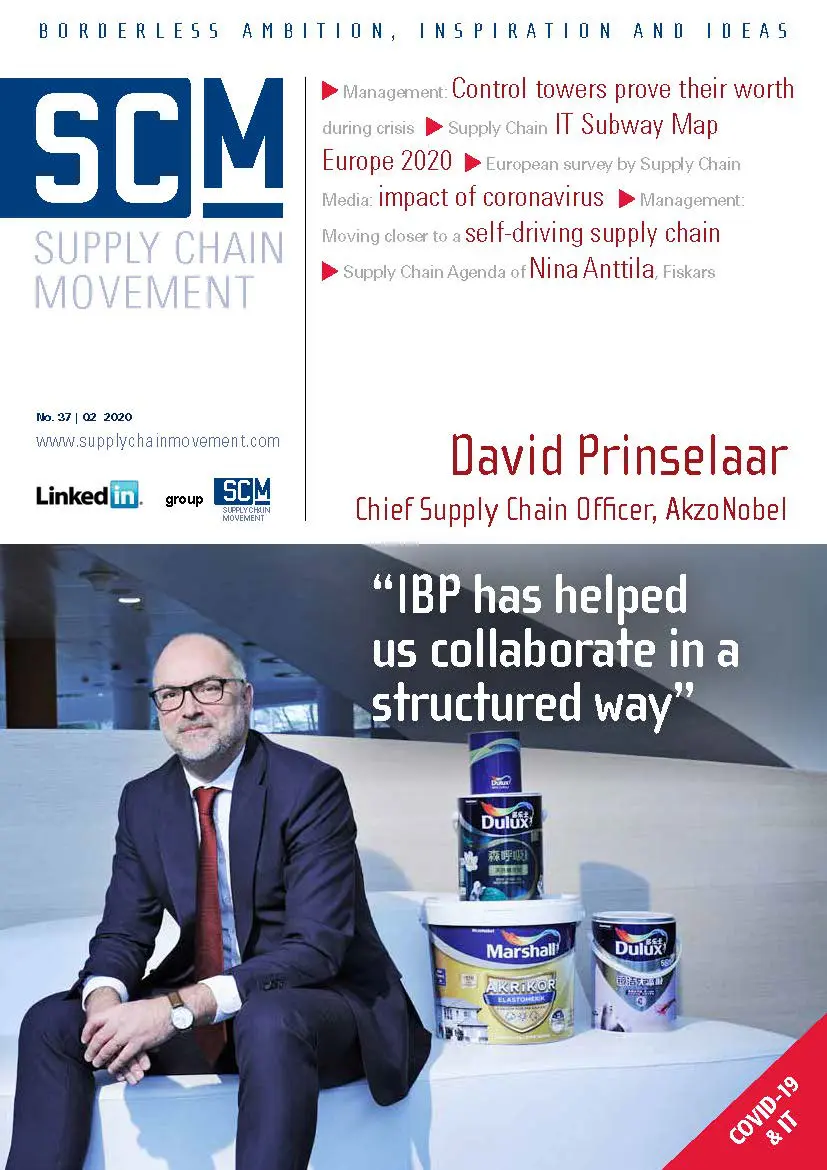 Want to read more?
Subscribe to the digital subscription to read the full version >>
or
select one of our annual or digital subscriptions to receive the next issue >>
This article was first published in Supply Chain Movement 37 | Q2 – 2020