Dave Manning: "Integrated Business Planning: logical evolution"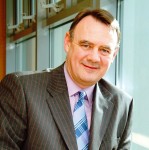 "Everybody is on a continuous improvement journey. I've never heard of a company that hopes to get any worse, but there are plenty of companies who do the right thing at the wrong time." This is how Dave Manning, consultant at Oliver Wight, started his inspirational presentation about Sales & Operations Planning (S&OP) during the 3-day SCL Europe congress in Prague on 7th, 8th and 9th June 2010.
 Manning sees a clear progression from S&OP to the next level, to Integrated Business Planning (IBP). This is a holistic approach to business planning in which businesses integrate strategic, operational and financial planning. "The cynics among us might call IBP just a new way of selling S&OP", says Manning quite frankly. "And in a way, it's true. But we have rebranded it to make sure the idea has evolved, which it has. IBP is the next generation."
According to Oliver Wight, business improvement specialists and more or less the brain behind Manufacturing Resource Planning, there are four phases needed for Integrated Business Planning. In the fourth and top phase, all business processes are integrated using technology. The third phase focuses on the knowledge-based automation of business processes, the second, on eliminating failures in business processes and the first; coordination: eliminating unplanned events and doing routine things, routinely. "Rather than preventing a problem, most people just fix them once they arise," comments Manning. "In his book 'Execution', the former manager of General Electric Larry Bossidy claims, and rightly so, that it is better to execute a lesser strategy well, than to not execute an excellent strategy at all." "It's not about perfection. Racing driver Mario Andretti also once said: if you're completely in control, you're not driving fast enough."
 According to Manning, Integrated Business Planning is based on a number of reviews: a product management review which encompasses portfolio, projects and resources; the demand review, which looks at the market, demand and sales. Then there is the supply review, which assesses supply chain management, storage and suppliers. "Each of the reviews is made up of consecutive steps: change, implications and decisions", Manning explains. "Top directors are involved in this processes and the most important issue to be discussed is then financial gap planning. This often reveals a negative gap between budgeting and realising growth. In other words, it's all about planning, planning and more planning. World-class companies may work in this way already, but they still only respond when things go wrong."
Manning told a story about a man who is shovelling coals into the engine down in the boiler room of a ship. "It's all about trust. When the captain comes downstairs to make sure that everything is ok, who is making sure that the ship isn't going to run aground? With Integrated Business Planning, the captain is on the look out for icebergs and tropical islands. With S&OP, all eyes are on the short term whilst companies should be looking further into the future. IBP is a continual process, not a weekly meeting: optimise the various organisational processes and calibrate all your gauges. In an operational strategy with a four or five-year plan, you identify your goals: what do you want to achieve? Using a bottom-up process, you can look for ways of going about this. And the implementation depends on sharing knowledge, which requires a series of workshops and coaching." Manning noted that the most common hurdles in Integrated Business Planning are communication with top management and their behaviour, but above all, the fact that it's not a supply chain process.