'Data-driven leadership is not just within your own four walls'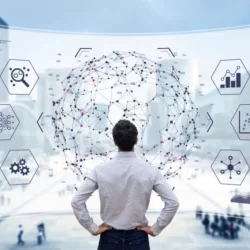 In today's volatile, uncertain, complex and ambiguous (VUCA) world, data is crucial to help supply chain professionals recognize, analyse and manage operational challenges, among other things. The availability and generation of data within companies is increasing at a rapid pace, which is posing a new question: what should you do with all that data? During a recent live webinar, experts from supply chain consultancy Argon & Co outlined their vision on how to shape data-driven leadership in the supply chain.
By Onno Beijers
There seems to be no end in sight to the supply chain chaos triggered by the pandemic and the war in Ukraine. In fact, the logistics problems caused by COVID-19 have recently flared up again due to the prolonged lockdown of the Chinese port city of Shanghai, stated Martijn Lofvers, Chief Trendwatcher of Supply Chain Media. He moderated the Dialogue Thursday webinar held on 28 April on the topic of data-driven leadership in the supply chain. Aart Willem de Wolf, Senior Partner at Argon & Co, referred briefly to the extra disruption caused when a container ship blocked the Suez Canal. "That immediately led to questions such as: Where are my containers? Where is my order? And how far back in the supply chain can I go for status information? This all illustrates that data-driven leadership in the supply chain is not restricted to within the four walls of your own company."
The consequences of these disruptions are obvious, said De Wolf: "Employees are under pressure, which leads to firefighting right up to senior level, with the exception of a very few sectors." In the process, he says, a dichotomy is emerging: "On the one hand, there are the companies who say: 'All those supply chain improvement plans are fine in theory but we don't have time right now'. They put their improvement plans on hold because they are focused on solving short-term issues. Their first priority is to fill the gaps. That's a double whammy; directing all the resources there means that the supply chain improvement agenda becomes delayed, which causes them to fall further behind their competitors. In contrast, there are companies that do have their act together. They are very responsive and are now enjoying the rewards of their efforts."
Outdated KPIs
Digital transformation leads to a maze of data, dashboards, technology and the creation of analytics teams. That's often where traditional leaders, in particular, look for the solution. And the generation and availability of data continue to increase. In practice, this often poses a new challenge, noted De Wolf. "The question is not so much 'Do I have data?' but rather 'What am I going to do with it?'." According to De Wolf, it is essential that a data-driven leader creates business impact, such as by using data to challenge the status quo, by connecting people, processes and data technology, by improving the quality and analysis of data, or by ensuring reliable workflows. "In the supply chain landscape, there is only one truth: transactional data. Being cross-functional in that – with each other – is very valuable."
Lofvers ventured that there is often a lack of alignment between the business strategy, supply chain strategy and inventory strategy. De Wolf replied: "Many companies can make gains by using the overall business strategy as a starting point for their supply chain strategy. What is their reason for being? Why do customers buy from them? What type of company do they want to be in terms of reputation, in terms of innovation? They need to be very explicit about that in their supply chain strategy… and that starts with data. Companies need to look much more closely at operational data points at the order level. Unfortunately, the use of statistics in many companies is dismal. Managers prefer to have KPIs as simple traffic lights. Classic KPIs, such as On Time In Full (OTIF), no longer suffice. Even just a statistical variance analysis of On Time Delivery, both early and late deliveries, provides refreshing insights into logistics problems. Analysis of Deliveries In Full really is something else entirely. In fact, using OTIF combines two KPIs and actually obscures the underlying problems."
Crude oil
Lofvers suggested that data is actually the 'new crude oil', and that as a company you have to know what to do with it. De Wolf agreed with this metaphor. "Additionally, the company's path is dictated externally, by the customers, the stakeholders, the shareholders. You must have a very good idea of what you want to achieve, because otherwise you can get hopelessly lost in the maze of data. The goal, however, is to clearly define what you want to improve, preferably in a nice end-to-end process such as the supply chain. That's a fantastic basis for you to start working your way back from the desired impact to decide which data sources you need to combine. Which insights do you want to gain? Just as crude oil has a lot of potential value, so too does raw data. However, many companies have more data than they can process or convert into insights."
Roberto Uding, Lead BI Architect at Argon & Co, observed that too many companies adopt a technology focus aimed at achieving digital transformation, when they should actually be looking at business impact. According to him, this misplaced focus leads to procrastination based on numerous excuses such as 'Our IT systems don't work and don't talk to each other,' 'Our data is contaminated and can't be trusted,' and 'We need a new system to solve our problems'. "But nowadays we can use both existing and new, user-friendly tools, such as Power BI, to improve processes based on clear analysis," he concluded.