COVID-19 accelerated IoT adoption in transport and logistics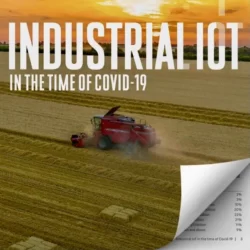 COVID-19 has been a catalyst for the application of the Internet of Things (IoT) in the transportation and logistics sector. As a result of the pandemic, 90% of transportation and logistics companies have accelerated or plan to accelerate the deployment of IoT projects, according to new research by Inmarsat, a world leader in mobile satellite communications.
According to the findings, Internet of Things adoption has soared since 2020. 72% of the transportation and logistics organizations surveyed have now fully implemented at least one IoT project. The remaining 28% who have not yet used IoT in any form are currently trialling it or plan to implement or trial at least one IoT project in the next two years.
Meanwhile, 90% of respondents indicate that they have accelerated Internet of Things adoption or plan to do so in response to the challenges associated with COVID-19. Of those, 49% have already accelerated IoT adoption in response to the pandemic, 28% will do so in the next 12 months and 13% will accelerate beyond the next 12 months.
Link between IoT and business continuity during pandemic
The 49% of respondents who accelerated their IoT adoption were less likely to indicate that COVID-19 had a negative impact on their operational capacity. This implies there is a correlation between IoT and business continuity during the pandemic. In addition, more than half (52%) of the industry respondents believe that business and operational challenges associated with COVID-19 have underlined the importance of Internet of Things.
"Despite the considerable challenges to the industry caused by COVID-19, our research shows that Internet of Things data has played a vital role in helping to support organizational efficiencies in under-pressure supply chains," said Steven Tompkins, Director of Market Development at Inmarsat. "The findings show that the transport and logistics sector is embracing digitalization and accelerating its adoption of IoT and other Industry 4.0 technologies to ensure tomorrow's logistics networks are both efficient and sustainable."
Challenges
Mike Carter, President of Inmarsat Enterprise, notes: "While our findings point to IoT driving significant uplifts in efficiency, sustainability and safety across global supply chains, there are areas where organizations can make improvements to draw the optimum benefits from the technology. Connectivity, data management, skills shortages, security threats and investment levels remain challenges as the world's production and supply chains become increasingly digitalized and intertwined."