CO2e emissions are offset for 50% of Forto's ocean freight volumes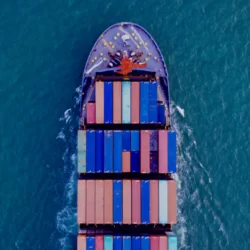 In the third quarter of 2021, 50% of Forto's total ocean freight volume was shipped with a CO2e emissions offset. In the same period, 65% of customers chose to offset the emissions generated by their ocean freight shipments, which is the highest percentage of customers to date. Moreover, the digital freight forwarding and supply chain solutions provider has achieved this target well ahead of its original forecast, which was by 2023.
CO2e stands for 'carbon dioxide equivalent' and is a measure of how much a given amount of greenhouse gas contributes to global warming, using an equal concentration of CO₂. According to Forto, the Q3 figures indicate accelerated adoption of climate-driven solutions by customers.
This achievement also marks an important next step in the company's long-term goal of driving the transformation to sustainable supply chains. "We see these figures as positive indicators of a significant market shift. Sustainability topics are moving to the forefront of customer agendas," says Michael Wax, CEO and co-founder of Forto.
Climate neutrality in logistics
In April this year, Forto announced its commitment to making its transport activities 100% climate neutral by 2025 in order to address the global impact of shipping and transportation on people and the planet. The company gives customers insight into their emissions, along with information that enables them to make data-driven decisions. The aim is for sustainable choices to become the norm, which Forto says can be achieved by making climate action easy. The firm has also set itself the goal of carbon neutrality, and calculates, reduces and offsets its own footprint.
The scale-up, which was founded in Germany in 2016, is also working to build a network of partners and collaborative initiatives on a global level to achieve sustainability and climate goals together. "Sustainability must become an integral part of every business philosophy," states COO Michael Ardelt. "We hope to have an impact not only on our company, but on the entire industry. That means working with our customers, our partners and a variety of businesses to jointly advance these sustainability initiatives."
A sustainable company is also a future-proof company
The company strongly believes in a world of free and fair trade and connects the benefits of global trade with a sustainable way of transporting goods. Apart from reducing environmental impact and improving social conditions, a sustainable and balanced company is also a future-proof company, according to Forto. That is why its goal is to make supply chains future-proof and help the industry prepare for the challenges of the next century.