Circularity needed in ICT supply chain to significantly reduce waste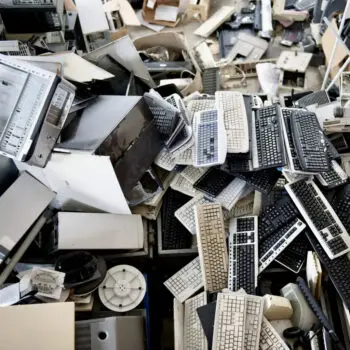 As the digital transformation of society continues, the Dutch ICT supply chain is generating a continuous flow of written-off hardware. To improve sustainability, it is crucial to promote circularity in the ICT supply chain. This is the key finding from the report called 'Towards a circular chain for ICT' based on a study by the Utrecht Sustainability Institute (USI) on behalf of the Amsterdam Economic Board.
Procuring 43 million information and communication technology (ICT) products each year, the Dutch business community in particular has a major impact, so this is the ideal place to stimulate the transition to a circular supply chain. If all companies were to start transitioning to circular ICT procurement by extending the lifespan of their equipment, this alone could reduce waste and emissions by 50%. They could then continue to work towards full circularity, according to the report.
The results of the study form the starting point for a multidisciplinary working group of hardware suppliers, resellers, buyers, data centres, governments and knowledge institutions. The working group intends to prepare guidelines for purchasers and also wants to gain experience in the application of various circular solutions and monitoring of circular use of ICT. The aim is to stimulate the procurement of circular alternatives. In this context, the Amsterdam Economic Board is actively pursuing the regional goal of 100% circular procurement by 2030.
ICT is one of the most polluting sectors
Five million products are added to the Dutch ICT hardware mountain every year, and 860,000 more products are thrown away than the year before. Based on the 247 million products in circulation in 2018 plus the annual increase of five million products, each with an average depreciation period of five years, as of 2021 more than 50 million ICT products will be discarded per year. As a result, ICT is rapidly becoming one of the most polluting sectors.
A lot of energy is consumed in the production, use and disposal of hardware, resulting in pollution. The global ICT sector's current contribution to emission levels during production and use is estimated at 3-6%, which comes close to the global cement industry's emissions. Recent studies predict that if the current growth trend continues, the production and use of ICT will account for 14% of global greenhouse gas (GHG) emissions in 2040, which is comparable to the emissions of the entire transportation sector or energy use in the built environment worldwide.
Consuming less, extending life span, reuse and refurbishment
Reducing the negative impact of ICT production and use is not only a matter of reducing energy consumption and switching to renewable energy sources, according to the report. To achieve further reductions, society must also embrace circular ICT hardware more quickly. After all, continuously producing hardware from raw materials is hugely energy-intensive; it represents 45% of the total potential for CO2 reduction.
Moreover, circularity in ICT hardware will slow down the depletion of scarce resources derived from critical raw materials. Circular solutions such as consuming less, extending life span, reuse and refurbishment will be essential to limit the size of the carbon footprint. They also offer ample opportunities for businesses to actively strive to purchase less hardware, collect more for recycling, repair or refurbish equipment and recycle it back into the economy.
"The Dutch invest around €9.5 billion in ICT hardware annually, of which the business market accounts for 55%. This offers lots of opportunities to steer towards a circular ICT supply chain," says Claire Teurlings, Lead Circular Economy at the Amsterdam Economic Board. "In addition, circular ICT enables purchasing organizations to reduce costs. Research shows that by extending the lifespan of hardware, buyers can achieve savings of 20% or more on procurement costs. Meanwhile, by choosing refurbished equipment, purchasing organizations can generally save 50% or more on costs without compromising on functionality and quality."
Still a niche market
Even though major hardware manufacturers are investing in circular solutions, circular ICT remains a niche market for now. However, lease or service-based models for hardware are becoming increasingly popular, which is driving a shift from 'pay to own' to 'pay to use'. "There are already some very good solutions available on the market. HPE and Dell Technologies are working on innovations in material use and design for reusability to make access to and dismantling of components easier," states Jeroen van der Tang, Sustainability Manager at NLdigital.
"Yet at the same time we see very little demand for circular solutions in both the business and consumer markets. In addition, as long as suppliers in the chain are unconcerned about the availability and scarcity of critical raw materials, there is no perceived (financial) pressure to become circular. So more awareness of the urgency is needed in the supply chain as a whole, plus the potential benefits of circular ICT – both for ICT companies and for customers – deserve to receive more attention," says Van der Tang.