Checklist for S&OP Software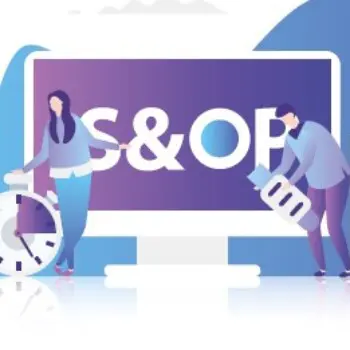 When it comes to supply chain IT investments, sales & operations planning (S&OP) software has consistently scored highest for several years. One major pitfall when selecting S&OP software is becoming blinded by its functionality. The software is intended to support a strategically important decision-making process, so it is crucial to ask the right questions in order to find the right solution and the right vendor.
What with data lakes, cloud computing, machine learning (ML) and other forms of artificial intelligence (AI), software vendors are making huge strides in advanced technology that is driving innovation and transforming industries. The numerous supply chain disruptions mean that companies need to improve their resilience, which requires them to take their S&OP decision-making process to the next level. The result: rising demand for supporting software. In particular, businesses want integrated financial and scenario planning to facilitate their transition to integrated business planning (IBP), and capability for detailed short-term planning in the context of sales & operations execution (S&OE).
Four dimensions
During the selection process, companies should assess the S&OP software and its vendor on four dimensions: functionality of the software, technology used, experience in implementation and domain knowledge. Most companies looking for software mainly focus on functionality, resulting in endless redundant questionnaires about it. With the rapid rise of Machine Learning and AI in supply chain software, it is crucial to determine to what extent this is essential to the specific company's S&OP process. And to what extent has the software vendor as applied this new technology and then in a specific industry and geography? The most overlooked dimension is domain expertise in the processes supported by software: what kind of research is the software vendor doing on this among (potential) users perhaps in collaboration with universities?
Ultimately, the choice of software vendor is about balancing the capabilities of the software with controlling costs and complexity of implementation. The supply in S&OP software is vast and the many software vendors tend to see endless possibilities for companies. This is both a blessing and a curse that often greatly delays finding the right software vendor, and possibly a corresponding implementation partner, in practice. Companies should clearly articulate their requirements to a software vendor and preferably evaluate them through a live demo for their industry.
Download the Checklist for S&OP Software
Supply chain consultancy Involvation and Supply Chain Movement have developed this practical checklist comprising ten critical questions to help retailers and manufacturers select the right S&OP software vendor for them.
Find more checklists of Supply Chain Movement here >>
Download:
Checklist for S&OP Software