Checklist for predictive tracking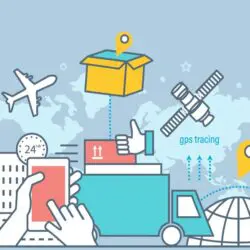 As visibility becomes increasingly fundamental to transportation and logistics operations, predictive estimated times of arrival (ETAs) are entering the picture to reduce transportation costs and improve margins. While the industry has functioned with loose ETA timeframes and ranges in the past, the demand for more insight into shipment location has created a need for accurate and predictive information.
Over-the-road tracking has become standard for supply chains, yet it's just the beginning for real-time transportation visibility. To gain a comprehensive view of the transportation journey, many are starting to leverage that same real-time actionable insight across all the modes they use.
Global in scope
Real-time tracking is about having an all-encompassing view of the process from start to finish – irrespective of the location, time and/or mode of transportation. This includes visibility into all possible modes used to deliver a shipment (including rail, road, ocean, parcel and last mile), across all time zones around the world. This coverage across all modes and geographies enables supply chain managers to track the shipment throughout its entire journey, achieving complete transportation visibility. Even if just one piece of the puzzle is missing, supply chain managers will have an incomplete picture, which can lead to delays and inconsistent delivery estimations. With access to a large, global network of carriers, supply chain managers can gain real-time information about their shipments to quickly and easily give customers the status updates they're looking for.
Supply chain software vendor project44 and Supply Chain Media have drawn up a checklist to help you establish whether your company is capable of predictive tracking. Answer these 10 questions and find out whether the transportation visibility of your company is optimal, reasonable or below par.
Download the checklist
Fill in the form below and download the full checklist.
Find more checklists of Supply Chain Movement here >>
Download:
Checklist for predictive tracking